With its brilliant new Acer Snap Hinge™ 2, this trendy and compact 2-in-1 laptop transforms
into four different devices, simply and incredibly smoothly. Add to that its long battery life, and
you have a partner for serious work and play – the perfect blend of a laptop's productivity and a
tablet's multimedia fun.
Powerful producer
An Intel® Atom™ x5 processor1 offers improved graphics and gaming performance plus
impressive power efficiency. This 2-in-1 runs on Windows 10 and features Continuum,
which automatically switches the user interface from tablet mode to laptop mode.
Eye-catching trendsetter
The Aspire Switch 10 E comes in a range of trendy colors that all work perfectly with its
dynamic shape and elegant textile-pattern texturing to create one great-looking device.
Choose the color that suits you, and watch your friends turn green with envy.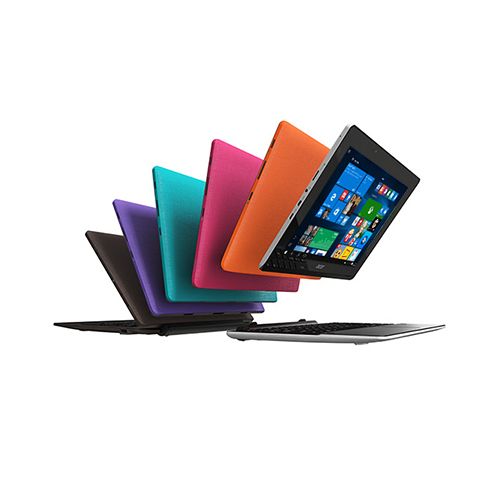 Versatile shape-shifter
This device's perfectly designed Acer Snap Hinge™ 2 lets you snap the keyboard part
on or off with a simple push or pull. Switch effortlessly between four very useful modes:
notebook, tablet, tent, and display.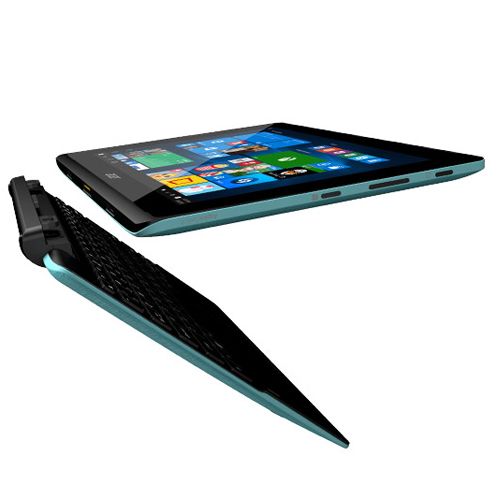 Data protector
Acer SwitchLock™ lets you lock this keyboard dock's HDD so it only works with the
tablet part. Use the tablet as the HDD's key – simply snap the tablet off the keyboard
to lock the HDD. All your HDD data is now protected and can't be stolen. Simply snap
the tablet back on to unlock all that data.
Friend of your eyes
This device features Acer VisionCare™, so you can switch on Acer BluelightShield™ to
reduce stress-causing blue light when you need to look at the screen for long periods.
Acer LumiFlex™ auto-boosts contrast when you use this device in direct sunlight – no
more squinting when you step outside!
Great entertainer
The HD screen features IPS technology2, so you get clear images when viewing from
any angle. The screen is also made of ultra-tough Gorilla™ Glass, which protects against
scratches and also makes scratches less visible. Dual speakers deliver serious sound and
work with dual cameras to ensure great video calls.
TECH SPECS
Operating System
:
Windows 10 Home 64-bit
Processor
:
Intel Atom x5-Z8300 Processor 1.44GHz (2M Cache, up to 1.84GHz)
Memory
:
2GB LPDDR3 memory
Storage
:
64GB eMMC + 500 GB HDD
Display Screen
:
10-inch IPS Display HD 1280 x 800 resolution, High Brightness LED backlit TFT LCD with
integrated Multitouch, supporting 10-finger touch, 16:10 aspect ratio,
Wide viewing angle, Super slim design, Mercury free, environment friendly
Graphics
:
Integrated Intel HD Graphics supporting OpenGL 3.0, OpenCL 2.0, Microsoft DirectX 12
Audio
:
High-definition audio support, Two Built-in stereo speakers, Built-in microphone
Dimension
:
262 (W) x 180 (D) x 25.75 (H) mm (10.31 x 7.09 x 1.01 inches) pad and dock with hard drive
Weight
:
1.28 kg (2.82 lbs.) with 2 cell battery pack, pad and dock with HD
Battery Type
:
30 Wh 8060 mAh 3.75 V 2-cell Li-polymer battery pack
Battery Life
:
Up to 12 hours
Network
:
WLAN: Acer InviLink Nplify 802.11a/b/g/n wireless LAN
Operates at 2.4 GHz and 5 GHz
Camera
:
Front Webcam with: 1600 x 1200 resolution
720p audio/video recording
Rear Webcam with: 1600 x 1200 resolution
720p HD audio/video recording
I/O Ports
:
MicroSD card up to 128 GB (SDHC compatible, exFAT compatible)
3.55 mm headphone/speaker jack, supporting headsets with
HDMI Micro Connector with HDCP support