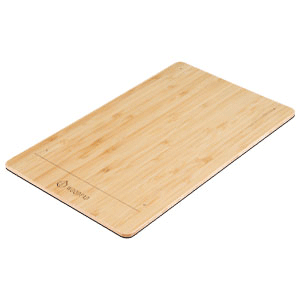 Product Description:
The ViewSonic® WoodPad? 10 is a versatile drawing pad specifically made for illustrators, graphic designers, and other digital artists. Crafted from renewable and lightweight bamboo, the 10" WoodPad delivers an eco-friendly and compact design that can be easily transported from home to office, to lecture halls, coffee shops, and wherever creativity may take you. Each WoodPad also features distinct and natural bamboo markings, giving you a stylish, one-of-a-kind drawing pad. With extremely precise pen accuracy, the WoodPad provides a familiar pen-and-paper drawing experience so you can be confident that your sketches appear onscreen just as you intend.
Portable Design
A thin, lightweight design lets you take WoodPad wherever you go. Just pack the WoodPad in your bag or suitcase, and plug into a monitor whenever creativity strikes.
Easy Plug-and-Play
Start drawing right out of the box with plug-and-play functionality for Mac and PC. No driver installation needed.
Battery-free Pen
The battery-free pen features a pen tip with a lifespan of up to 150,000 taps. Three extra pen tips are included.
Versatile Software Options
Compatible with graphic design applications like Photoshop, Illustrator, and more, WoodPad ensures that designers can sketch, draw, and create with their favorite software.