DrivePro™ 50
Introducing Transcend's most compact dash camera yet--the DrivePro 50--a car video
recorder that does away with everything except the essentials. With exceptional picture
quality and low-light performance, live-streaming to iOS and Android devices, compact
design, and High Endurance memory card included, Transcend's DrivePro 50 has everything
you want in a dash camera.
24/7 Guardian
Featuring a large ƒ/1.8 aperture and high-quality camera lens, the DrivePro 50 can automatically
adjust to different lighting conditions to capture all details of an incident, including license plates,
during either daytime or nighttime. The camera also integrates a wide 130° viewing angle and a
Full HD imaging sensor for clear and smooth 1080P (30fps) recordings.
Powered by the free DrivePro New app--available for both iOS and Android devices--the DrivePro 50
is built with wireless connectivity to allow you to stream, play back, and download videos, or adjust
settings directly from your iOS or Android device. This means ease of access to video evidence for
reporting incidents to law enforcement and insurance companies.
Emergency recording for critical evidence
In the event of a collision, the built-in g-sensor in Transcend's DrivePro 50 will detect the impact and
instantly trigger an emergency recording. Emergency recording mode protects the current recording
as well as the critical seconds before the accident from being overwritten. This feature may be
manually activated by pressing the red button on the side of the unit.
Free Download of DrivePro Toolbox
Transcend's DrivePro Toolbox features a user-friendly interface that can sort videos by file name,
record date and group. You can select and play videos recorded by the DrivePro without the need to
install separate codecs. The tool also includes a screenshot function, which is perfect for reporting
incidents to insurance companies or police for claims settlement.
MLC-based microSD card included
Transcend's DrivePro 50 is bundled with a Transcend 16GB High Endurance memory card,
which can stand up to 3,000 hours of Full HD video recording. Built with top-tier MLC NAND
flash chips, Transcend High Endurance memory cards provide consistent long-life durability
and endurance.
Two car mounts for selection
Transcend's DrivePro 50 is offered with either a suction mount or an adhesive mount.
Choose the mounting method that best fits your situation.
There's more!
Click the Car Video Recorder Comparison Chart below to find the Car Video Recorder that suits you best.
TECH SPECS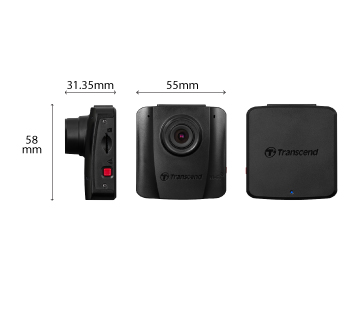 Dimensions
:
55mm × 58mm x 31.15mm (2.17" x 2.28" x 1.23")
Image Sensor
:
Low-light sensitivity CMOS, 3 mega-pixel
Lens
:
ƒ/1.8, 130° wide angle
Resolution/Frame Rate
:
Full HD 1920x1080P (30fps)
Video Formats
:
H.264 (MOV: up to 1920x1080 30fps)
Memory Card Supported
:
MicroSD card, 8GB/16GB/32GB/64GB (Class 10 or above)
Connection Interface
:
USB 2.0