The best of a tablet
Surface 3 has the looks and performance to turn heads. With its 10.8-inch screen and thin,
light frame, it's just the right size to slip under your arm or in your purse and take anywhere.
Fancy a movie or some late-night gaming? With 10 hours of battery life, stellar sound, and an
integrated Kickstand, Surface 3 is perfect for hands-free entertainment wherever you go.
Ultra-thin, feather-light
Made from sleek magnesium alloy with a smooth ceramic
finish, Surface 3 weighs in at just under 1.5 pounds.
Go the distance
Up to 10 hours of battery life1 means you can binge watch a
season of your favorite TV show without pausing to power up.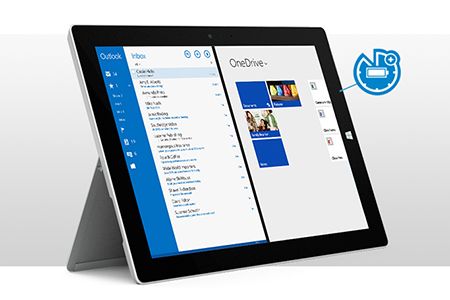 Picture perfect
Record a lecture with the 8MP rear-facing camera with autofocus, or
make a Skype call using the 3.5MP front-facing camera.
A laptop when you need itSurface 3 may look like a tablet, but it's so much
more. It's fast and responsive, so it won't slow you down when you're on the go.
More importantly, when you need to run Windows desktop software like iTunes or
Photoshop Essentials2, it just works. Click in a backlit keyboard3 to type faster
than onscreen, and easily connect your accessories with the full-size USB 3.0 port.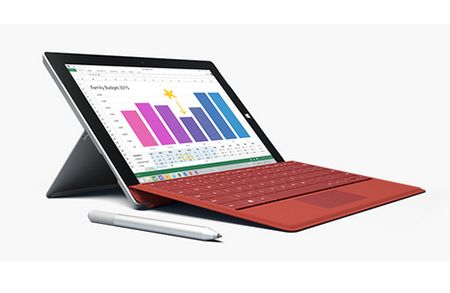 Powered by Intel
Packing a Quad-core Intel Atom processor, you have the power to run
desktop software and your favorite apps—just like a laptop. Surface 3
offers more than 80% of the performance of Surface Pro 3 with Intel
Core i3 processor (according to PCMark 8 Creative Conventional test9).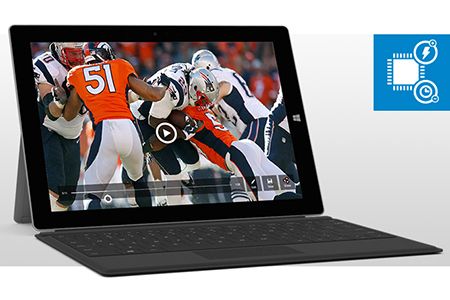 Kick it out or type it up
Complete big assignments or enjoy a movie with the built-in
3-position Kickstand. Click on a Type Cover to increase your productivity.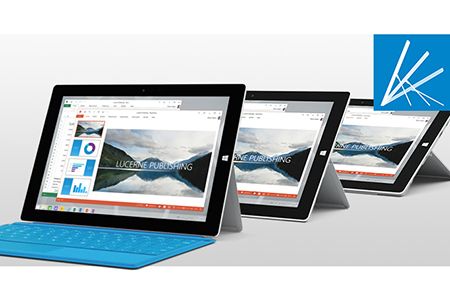 Port-tastic
Easily connect your peripherals and transfer files via a full-size USB 3.0, microSD card reader, and Mini DisplayPort.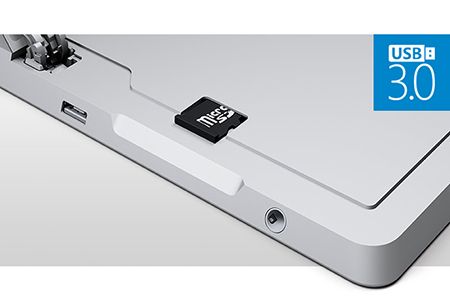 Runs Windows and Office
There's just so much you can do with a Surface 3. Windows 8.1 gives
you an endless array of options for entertainment and productivity, plus
the ability to multitask using two apps side by side. For a limited time,
a 1-year subscription to Office 365 Personal is included with Surface 3.4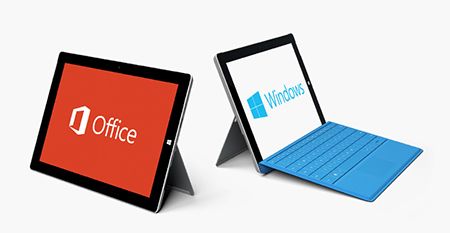 Office included for a limited time
Word, OneNote, and PowerPoint, work gets done with Office. Surface 3
comes with a 1-year subscription to Office 365 Personal ($69.99 value).4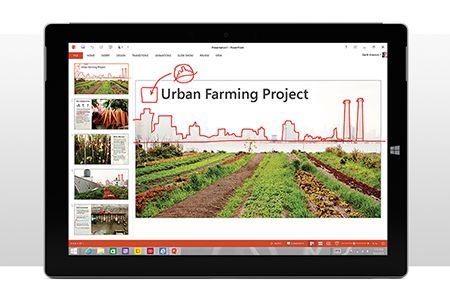 Free Windows 10 upgrade
Upgrade for free to Windows 10 when it's available,5 and get the best
combination of the Windows you know, plus lots of improvements you'll love.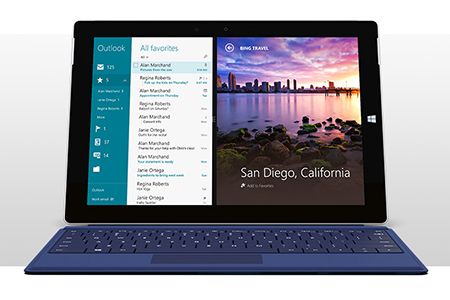 Gotta-have apps
Mark up PDFs with Drawboard app or play Halo: Spartan Strike
to test your gaming skills. Discover more apps at Windows Store.
Great Pen experienceGiving you the most natural writing experience on a tablet,
Surface Pen6 is responsive and precise. Surface Pen feels like an actual pen,
not a flimsy stylus. And with 256 levels of pressure sensitivity, it's easy to draw,
takes notes, or write music. It's the digital writing experience you've dreamed about.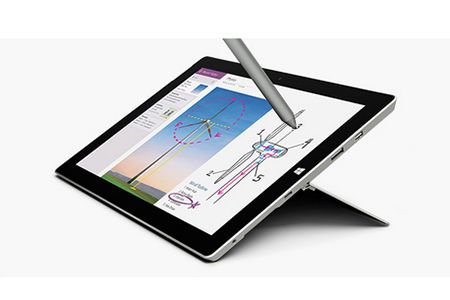 One click to OneNote
Toss out those old-school notepads. With a click of the Pen,
a blank OneNote page is ready for quick notes or sketches, even if your Surface 3 is napping.
Editor whiz
The right-click button on the side of the Pen reveals formatting options,
while the erase button turns its tip into an eraser for quick touch-ups.
Palm Block technology
Go ahead, rest your hand on the screen. Palm-blocking technology ignores
pressure from your hand, so you can write freely.
TECH SPECS
Screen size
:
10.8-inches
Screen type
:
ClearType Full HD Plus Display
Resolution
:
1920 x 1280
SoC
:
Intel Atom x7-Z8700
Speed
:
1.6GHz (with Intel Burst up to 2.4GHz)
OS
:
Windows 8.1 (with Windows 10 upgrade coming)
Software
:
1 year Office 365 Personal
Bluetooth
:
Bluetooth 4.0
WiFi
:
802.11 a/b/g/n/ac
Sensors
:
Ambient light sensor / proximity sensor / accelerometer
Build
:
Magnesium alloy with ceramic finish
Size
:
267 x 187 x 8.7mm / 622g