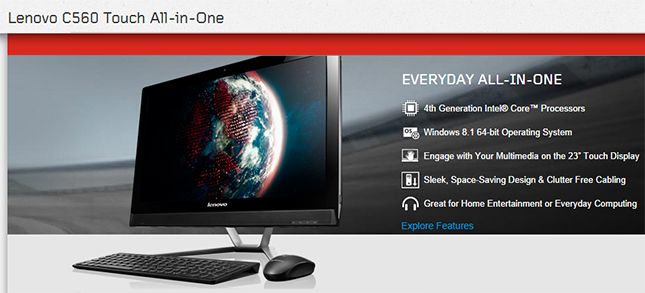 FEATURES
4th Generation Intel® Core™ Processors
With up to 10 percent more processing power, 4th generation Intel® Core™ processors
deliver faster performance and up to 68% better graphics. They can also guard against
identity theft and ensure safe access to your network with built-in security features.
Space-Saving Design
The 23" multitouch display takes surprisingly little space on your desk, counter, or
entertainment center. A mere 2.1" thick, the unit boasts clutter-free cable management
and a sleek metal stand to store the keyboard. And on the rare occasions when the C560
Touch is not in use, everything can be tucked away neatly.
5-Point Multitouch
The C560 allows you to interact by using simple, intuitive gestures directly on the 23"
screen. The C560 uses 5-point multitouch technology for greater accuracy and flexibility.
Multimedia Power
Discrete graphics support, an integrated DVD reader/writer, stereo speakers with
Dolby® Advanced Audio™, and optional HDMI output offer crisp visuals and immersive
sound for a fuller, more satisfying home entertainment experience.
Tool-Free Expandability
Probably the most easily expandable all-in-one PC in the market, the C560 lets
you seamlessly install up to 2TB of additional storage space — without the need for a screwdriver.
AccuType USB Keyboard & Mouse
Island-style, ergonomic keys allow more fluid, spacious, comfortable and accurate
typing than standard keyboards. With optical mouse pairing, you'll enjoy all-round
precision navigation.
USB 3.0 SuperSpeed
Up to 10 times faster than previous USB technologies, the USB 3.0
SuperSpeed enables you to move data quickly between your PC and other devices.
Ample Storage and Memory
With plenty of HDD storage, you won't have to worry about where to put all
your data, videos, music, or photos. And with abundant memory, it's great for multitasking.
Lenovo Assistant
Keep it simple by with Lenovo Assistant, an easy-to-use interface to organize your
favorites, clean up history and junk files, and manage your PC's network connections
and energy consumption.
Lenovo Rescue System
Quickly and easily backup and recover system files, applications, drivers, and user files.
McAfee LiveSafe® Free Trial
Keep your entire digital life secure with the comprehensive protection afforded by McAfee
LiveSafe software. LiveSafe protects cross-device, through the cloud, and locally to ensure
total security for your data and identity. Enjoy a free 30-day trial with purchase. Or, upgrade
to the full version during the purchase process and enjoy peace-of-mind security from day one
TECH SPECS
Processor : Intel Core i5-4460T Processor (6M Cache, up to 2.70 GHz)
Operating System : Windows 10
Graphics : 2GB NVIDIA GeForce GT800M
Memory : 4GB DDR3-1600 MHz (2 x DIMM slots)
Hard Disk Drive : 1TB 7200 RPM
Connectors : 2x USB 3.0
4x USB 2.0
6-in-1 card reader
LAN
Mic
Headphone
Sound : Stereo speakers with Dolby® Advanced Audio
Communications : WiFi 802.11 b/g/n
Optical Drive : DVD RAMBO reader / writer
Display : 23-inch LED Backlit LCD (1920x1080) 5-point Touchscreen
Weight : 17.6 lbs
Dimensions : 22.6" x 2.2" x 17.8"
Warranty : One month warranty