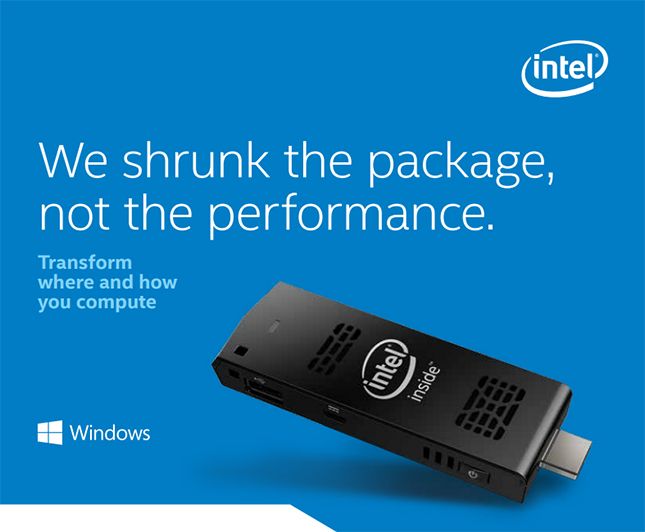 Intel Compute Stick is a new generation of ultra-slim devices that enables you to transform
any HDMI display (TV/Monitors) into a fully functional computer. It provides the power,
reliability, and graphics needed for a seamless experience with the Intel Atom Quad-Core
processor. The device is versatile for usages across PC-like embedded, business, and
consumer segments. Connect. Compute. It's that Simple! Intel has crammed in a quad-core
Atom CPU, 32GB of storage and 2GB of RAM, along with a USB port, Wi-Fi and Bluetooth
4.0 support and a mini-USB connector for power, Pre-installed 32-bit OS: Windows 8.1 and
micro SD card slot for additional storage.
New Generation compute one device that transforms any HDMI display into a fully functional computer

A solution with plenty of storage and performance needed for light productivity, social networking, web browsing, and streaming media, such as Netflix, Hulu, or games.

Enable thin-client solutions for small- to medium-sized businesses, delivering ultra portability and reliable plug-and-play simplicity, with Windows Remote Desktop access for on-the-fly support

A reliable low-power solution for developers creating light digital kiosks with no-effort installation and delivering streaming or static HD content on displays located anywhere.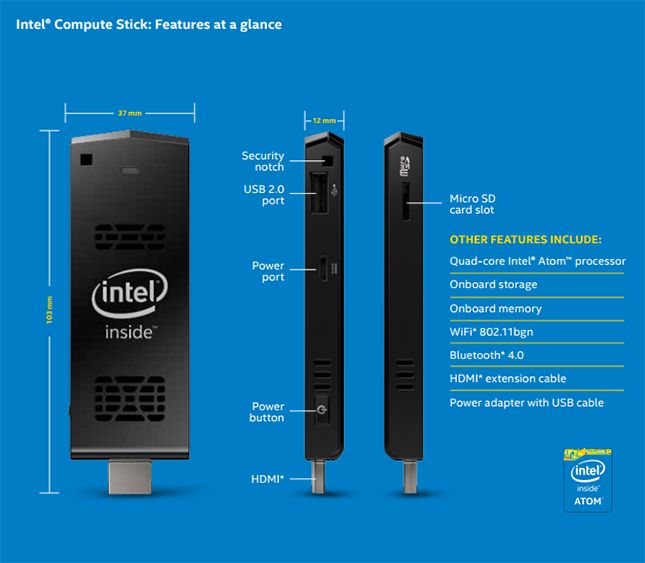 TECH SPECS
Processor
:
Intel Atom Processor Z3735F (2M Cache, up to 1.83 GHz)
Support Intel Virtualization Technology
Storage
:
32GB eMMC device built-in
SDXC v3.0 slot with UHS I-Support
Graphics
:
Intel HD Graphics
Connectivity
:
Integrated 802.11bgn Wireless Connection
Aiduo
:
Intel HD Audio via HDMI, supporting multi-channel digital audio
Size
:
103 mm x 37 mm x 12 mm
Power
:
5V, 2A wall-mount AC-DC Power Adapter
Operating System
:
Windows 8.1