FEATURES
The widescreen nüvi 1360 Philippine redefines portable, affordable navigation. This thin GPS
has preloaded with NAVTEQ map, guides you to the proper lane for navigation, and ecoRoute™
to keep track of fuel consumption.With stereo Bluetooth and enhanced phonebook , make and
accept hands-free phone calls through the screen and listen to navigation.
Take It With You
Twenty-five percent slimmer than other nüvis, you can take the 1360 anywhere. It easily fits in
your pocket or purse, and its rechargeable lithium-ion battery makes it convenient for navigation by car.
See More
With nüvi 1360's widescreen display, you'll always get the big picture. View map detail, driving
directions, photos and more in bright, brilliant color. Its sunlight-readable, 4.3" display is easy
to read, from any direction.
Get Turn-by-Turn Directions
nüvi 1360's intuitive interface greets you with two simple questions: "Where To?" and "View Map."
Touch the color screen to easily look up addresses and services and get voice-prompted to your
destination. It comes preloaded with detailed street maps. With the 1360's enhanced user interface,
you can slide your finger to conveniently scroll between screens. You also can upload custom points
of interest (POIs). And with HotFix® satellite prediction, nüvi calculates your position faster to get
you there quicker.
Make Hands-free Calls
For hands-free calling, nüvi 1360 integrates Bluetooth® wireless technology with a built-in microphone
and speaker. Just pair it with your compatible Bluetooth phone and talk hands-free through the 1360
while staying focused on the road. Simply dial numbers with nüvi's touchscreen keypad to make a
call. To answer calls, just tap the screen and speak into its built-in microphone. Enjoy convenient
one-touch dialing for contacts and points of interest.
Go Beyond Navigation
Navigation is just the beginning. nüvi 1360 tracks fuel usage and more ecoRoute. The 1360 includes
many travel tools including JPEG picture viewer, world travel clock with time zones, currency converter,
measurement converter, calculator and more. With photo navigation, you can download pictures from
Garmin Connect™ Photos and navigate to them. With its "Where Am I?" emergency locator, you always
know your location. Simply tap the screen to get your exact latitude and longitude coordinates, the
nearest address and intersection, and the closest hospitals, police stations and fuel stations. The
1360 features Garmin Lock™, an anti-theft feature, and is compatible with our free Garmin Garage™
where you can download custom vehicles. Enhance your travel experience with optional plug-in microSD™ cards.
Make Hands-free Calls
Simply dial numbers with nüvi's touchscreen keypad to make a call. To answer calls, just
tap the screen and speak into its built-in microphone. Enjoy convenient one-touch dialing for
contacts and points of interest.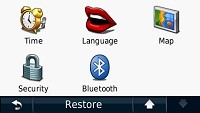 Where am I?
It helps you to view the information about current location. This is a helpful feature if you
need to tell emergency personnel your location. Touch a button on the right to view the
nearest locations in that category. Touch Save Location to save your current location.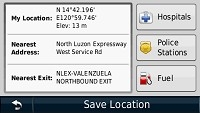 Trip Computer
The Trip Computer displays your current speed and provides helpful statistics about your trip.
To view the trip computer, touch the Speed field on the Map page. If you make frequent stops,
leave the nuvi turn on so it can accurately measure elapsed time during the trip.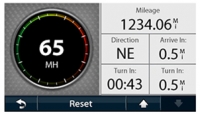 ecoRoute
The ecoRoute feature calculates your vehicle's fuel economy, carbon footprint, and the
fuel price of navigating to a destination and offers tools for improving fuel efficiency.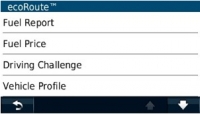 TECH SPECS
Physical & Performance:

Unit dimensions, WxHxD:
4.8"W x 2.9"H x .6"D (12.2 x 7.5 x 1.6 cm)
Display size, WxH:
3.81"W x 2.25"H (9.7 x 5.7 cm); 4.3" diag (10.9 cm)
Display resolution, WxH:
480 x 272 pixels
Display type:
WQVGA color TFT with white backlight
Weight:
5.7 ounces (161.6 g)
Battery:
rechargeable lithium-ion
Battery life:
up to 4 hours
Waterproof:
no
High-sensitivity receiver:
yes
Maps & Memory:

Basemap:
yes
Preloaded street maps:
yes (regional)
Ability to add maps:
yes
Built-in memory:
2G NAND flash
Accepts data cards:
microSD™ card (not included)
Waypoints/favorites/locations:
1000
Routes:
0
Features:

Voice prompts (e.g. "Turn right in 500 ft."):
yes (internal speaker)
Speaks street names (e.g. "Turn right ON ELM STREET in 500 ft."):
yes (English only)
Voice-activated navigation (operate device with spoken commands):
no
Junction view (guides you to the correct lane for an approaching turn or exit):
yes
myTrends™ (predicts routes based on user's navigation behavior):
no
3-D building view (displays buildings in 3-D):
no
Auto sort multiple destinations (provides most direct route):
no
Auto re-route (fast off-route and detour recalculation):
yes
Choice of route setup (faster time, shorter distance, off road):
yes
Route avoidance (avoid highways, tolls etc.):
yes
Bluetooth® wireless technology:
yes
Speed limit indicator (displays speed limit for most major roads):
yes
Where Am I? (find closest hospitals, police & gas stations, nearest address & intersection):
yes
Garmin Locate™ (marks position when removed from windshield mount):
no
ecoRoute™ (eco-friendly suggestion) :
yes
Qwerty or ABC keyboard (choose keyboard layout):
yes
Custom POIs (ability to add additional points of interest):
yes
Garmin Garage™ vehicles compatible (download car-shaped icons to your device):
yes
Garmin Garage™ voices compatible (download custom voices to your device):
yes
Photo navigation (navigate to geotagged photos):
yes
World travel clock, currency & unit converter, calculator:
yes
Picture viewer:
yes
MP3 player:
no
Audio book player:
no
Headphone jack/audio line-out:
no
Garmin Lock™ (anti-theft feature):
yes
Touchscreen:
yes
Dead reckoning:
no
Additional:
This USB mass storage device is compatible with Windows® XP or newer