HIGHLIGHTS
Adapter converts HDMI to VGA
The versatile Dell HDMI to VGA adapter enables the user to view video content from any laptop
or tablet with HDMI video output on a variety of VGA-compliant displays, ranging from monitors to
projectors. Supporting a maximum video resolution of 1080p, this user-friendly adapter ensures a
quality viewing experience and features a sleek, compact design. In addition to this, the adapter
supports Dell Display Manager (DDM) feature. For more on DDM please go to this link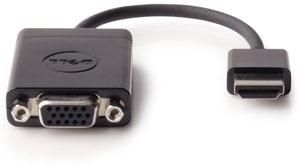 Video adapter ensures connectivity
This video adapter allows you to take video content from your laptop or tablet and display it on any
monitor, projector or HDTV featuring a VGA input. As long as your device is equipped with an HDMI
output, this compact adapter ensures a seamless conversion. Use it to enjoy movies on a home
projector, mirror your desktop for an expanded workstation or show presentations at school or work
Enjoy a crystal-clear viewing experience
The Dell HDMI to VGA adapter supports video resolution of up to 1080p to provide an enriched
visual experience--an ideal way to enhance a presentation or appreciate intricate graphics.
Compact size offers easy portability
Measuring 6.9 x 1.3 x 0.5 (L x W x H) inch, this plug-and-play adapter is easy to use and keep
handy for impromptu presentations for clients or movie nights with friends. The adapter is fitted
with a 19-pin HDMI on one end and a 15-pin HD15 VGA on the other, a standard fit for a wide
variety of VGA compatible display monitors, projectors and HDTVs.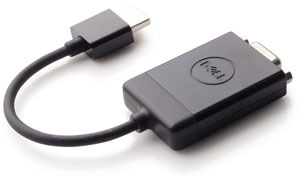 What's in the Box
Dell HDMI to VGA adapter.
OVERVIEW
The Dell™ HDMI to VGA adapter lets you take video content from your laptop or tablet and
display it on any monitor, projector or HDTV featuring a VGA input. This user-friendly adapter
supports a maximum video resolution of 1080p and ensures a quality viewing experience.
Featuring a sleek, compact design, the Dell HDMI to VGA adapter allows you to enjoy
movies on a home projector, mirror your desktop for an expanded workstation or show
presentations at school or work. The adapter supports Dell Display Manager (DDM) feature.
Manufacturer Part# : F8MCY
Dell Part# : 470-ABZX
Compatibility
This product is compatible with the following systems:
Alienware Alpha ASM100

Chromebook 11

Chromebook 13 7310

Chromebook 3120

Inspiron 14 3000 Series (3442)

Inspiron 14 3000 Series (3451)

Inspiron 14 3000 Series (3452)

Inspiron 14 3000 Series (3458)

Inspiron 14 5000 Series (5447)

Inspiron 14 5000 Series (5458)

Inspiron 15 3000 Series (3541)

Inspiron 15 3000 Series (3542)

Inspiron 15 3000 Series (3543)

Inspiron 15 5000 Series (5547)

Inspiron 15 5000 Series (5548)

Inspiron 15 7000 Series (7559)

Inspiron 15 7000 Series (7568)

Inspiron 17 7000 Series (7746)

Inspiron 3250

Inspiron 3252

Inspiron 3650

Inspiron 3655

Inspiron 3656

Inspiron 3847

Inspiron 5551

Inspiron 5558

Inspiron one 20 (3048)

Latitude 10 (ST2)

Latitude 10 (ST2e)

Latitude 12 Rugged Extreme 7214

Latitude 14 Rugged 5414

Latitude 14 Rugged Extreme 7414

Latitude 3150

Latitude 3160

Latitude 3340

Latitude 3350

Latitude 3450

Latitude 3460

Latitude 3470

Latitude 3550

Latitude 3560

Latitude 3570

Latitude 7275

Latitude 7350

Latitude E5250

Latitude E5270

Latitude E5440

Latitude E5450

Latitude E5540

Latitude E5550

Latitude E6440

Latitude E6540

Latitude E7240

Latitude E7250

Latitude E7270

Latitude E7440

Latitude E7450

Latitude E7470

Optiplex 3010 MT

Optiplex 3020 Micro

OptiPlex 3020 MT

OptiPlex 3020 SFF

OptiPlex 3040 Micro

Optiplex 3040 MT

Optiplex 3040 SFF

OptiPlex 5040 MT

OptiPlex 5040 SFF

OptiPlex 580 DT

OptiPlex 7010 DT

Optiplex 7010 Mt

OptiPlex 7010 SFF

OptiPlex 7020 MT

OptiPlex 7020 SFF

OptiPlex 7040 Micro

OptiPlex 7040 MT

OptiPlex 7040 SFF

OptiPlex 7440 AIO

Optiplex 780 DT

Optiplex 780 MT

Optiplex 780 SFF

OptiPlex 790 DT

OptiPlex 790 MT

OptiPlex 790 SFF

OptiPlex 9010 DT

OptiPlex 9010 MT

OptiPlex 9010 SFF

OptiPlex 9020 Micro

Optiplex 9020 MT

Optiplex 9020 SFF

OptiPlex 9020 USFF

OptiPlex 9030 AIO

OptiPlex 980 DT

OptiPlex 990 DT

OptiPlex XE DT

Optiplex XE SFF

OptiPlex XE2 MT

OptiPlex XE2 SFF

Precision 15 5000 Series (5510)

Precision 15 7000 Series (7510)

Precision 17 7000 Series (7710)

Precision M3800

Precision M4800

Precision M6800

Precision Workstation R5500

Precision Workstation R7610

Precision Workstation T1650

Precision Workstation T3610

Precision Workstation T5610

Precision Workstation T7610

Precision Workstations T7810

Venue 10 (5050)

Venue 10 Pro (5055)

Venue 10 Pro (5056)

Venue 11 Pro (5130)

Venue 11 Pro (7130)

Venue 11 Pro (7139)

Venue 11 Pro (7140)
TECH SPECS
Tech Specs
Video adapter - HDMI / VGA
Video adapter
HDMI / VGA
Black