Upgrade to Wireless AC Performance
Today's households are connecting more devices than ever before – with more and more iPhones,
Androids, tablets, and laptops laying around in any given home, it's important that each device
gets the speed and coverage it deserves.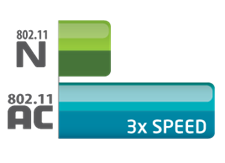 By upgrading your current network to Wireless AC, you can
wireless speeds, increased home coverage. Delivering Wi-Fi AC1000
dual band speeds to your home
immediately enjoy the benefits of faster
network, the DIR-820L is the perfect solution for those looking to enjoy
fast file transfers and lag-free video chatting – all with less wireless interference
Backward Compatible
While the DIR-820L delivers wireless AC performance to your home network, it is also backward
compatible with all of your existing 802.11 wireless devices. This means you can enjoy all the
benefits of wireless AC without worrying about annoying compatibility issues. Simply use a browser
or download the QRS app to your mobile device, follow the intuitive setup wizard, and you'll have
your wireless AC home network up and running in minutes.
Maximize your AC Performance
While your new wireless AC router delivers the latest and the greatest in wireless performance,
you can further optimize your home network's performance by upgrading to an 802.11ac USB adapter
on your desktop and laptop computers. By adding one of D-Link's AC USB adapters (DWA-171, DWA-180)
to your AC network, you can avoid speed bottle-necks and ensure that your network is running at it's
full potential.
mydlink App-enabled
mydlink Lite - Monitor and control your home network from anywhere
SharePort Mobile™ - Stream and share files and media over your home network from virtually any connected USB drive
QRS Mobile - Quickly setup your router from your mobile phone or tablet
FEATURES
mydlink
Wireless standard
:
Wireless AC
Wireless speed
:
867 Mbps 5 GHz
Ethernet speed
:
Gigabit
USB SharePort
:
DLNA server
TECH SPECS
Advanced Features
VPN pass through
Guest Zone Support
UPnP™ Support
Wi-Fi WMM Quality of Service
Standards
IEEE 802.11ac
IEEE 802.11g
IEEE 802.11n
IEEE 802.11a
IEEE 802.3
IEEE 802.3u
IEEE 802.3a
Ethernet Interface
4 10/100 Fast Ethernet Ports
1 10/100 WAN Port
Security
Wi-Fi Protected Access (WPA/WPA2)
WPS™
LEDs
Power
Internet
Confirming if there are any others
PowerOperating Temperature
30º to 104º F (0º to 40º C)
Operating Humidity
10% to 95% non-condensing
CertificationsDimensions
4.37 x 3.66 x 5.71 inches
Warranty