10.1'' Connected Android™ tablet with capacitive multitouch screen
The ARCHOS 101 internet tablet is a tablet who's choice you'll be proud of. You'll have in your hands the best of the highly desirable Android™ technology with a large, high-resolution 10.1'' screen, a weight of 480 g, and a thinness of just 12 mm. Beyond containing your window into the Internet and your HD multimedia, your device is completely customizable with a world of apps to make it your personal tablet.
A design to turn heads

The nice big 10.1'' diagonal screen sits within a very slim and light design. With more people looking toward this new trend in Internet tablets, ARCHOS has carefully matched the power of the Android™ platform to a seductive design that will have heads turning.
Viewing comfort

With the adjustable leg stand, you will always have the best position to tap out your emails, view a movie or enjoy the photo frame application.
Capacitive multitouch screen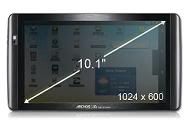 Whether you're looking at your ARCHOS in landscape or portrait mode, your pictures will look bright and crystal clear on the high-resolution 1024 x 600 pixel screen. It doesn't matter if you have it in your hands or if it's standing on a table with the built-in leg stand, You will always be impressed by the quality of the screen.
Android™

Android™ is the application framework developed by Google for connected mobile devices, coming with a full pack of connected apps such as a web browser and email application. The 5 home screens of the Android user interface allow advanced personalization: icons can be placed, moved or erased with just a flick of a finger. Thanks to the home screen widgets, users can instantly access their favorite applications.
Android™ on TV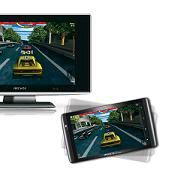 Basically, this is what you see on your product screen, but ten times bigger. With its TV output, the ARCHOS 101 internet tablet displays every Android™ sceen on your wide screen TV*. You can then browse your files or the Internet from your couch. And guess how immersed in your 3D games you could be using the device as a steering-wheel! This is just staggering!
Tethering (Using your portable phone as a modem)

Want to be connected anywhere? Just plug your mobile phone equipped with 3.5 G & Bluetooth™ technology, simply pair it up to your ARCHOS 101 internet tablet via Bluetooth™ or even via USB cable. This will give you easy access to Internet directly on your device anytime and anywhere. There's no need to pay an extra fee when you already have a data service plan***.
Home Streaming from your PC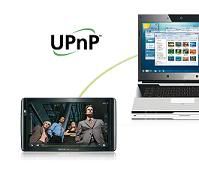 The ARCHOS 101 internet tablet has Samba and UPnP protocols: this means that you play your movies, videos, and photos on your ARCHOS, but these files are really located on your computer in another room. You don't need to store everything on your ARCHOS to enjoy viewing it on your ARCHOS! Your files fly through the air over WiFi. The ARCHOS 101 internet tablet is the small and convenient portable computer that you've always
dreamed about.
* Mini HDMI / HDMI cable sold separately.
*** The function of relaying your internet connection may not be authorized by your mobile phone operator or may require a special data plan option. Please refer to your contract.
Read or Edit your Office Documents™ (Word™, Excel™, PowerPoint™)


The ARCHOS 101 internet tablet combined with the OfficeSuite application allows users to easily create, revise or edit all of their Office documents. This office suite, compatible with Microsoft Office ™, gives users the ability to manage all of their Word™, Excel™, and PowerPoint™ documents. This application also serves a central location for managing both online and offline documents. This application has a multitude of improved features that include: extraction of ZIP files, zoom mode, downloading files, text encoding options, etc. ... The ARCHOS 101 internet tablet is also compatible with other formats such as pdf, rtf, e-books, etc. ...
Multiple Connections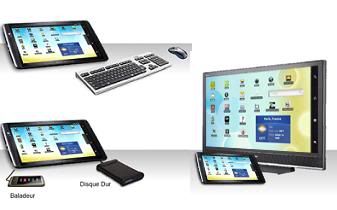 The user can easily connect accessories to the ARCHOS 101 internet tablet. By connecting a USB keyboard or Bluetooth™, the tablet turns into a real PC, ideal for working with office files. Thanks to the USB host, there is nothing easier than transfering photos or files directly from a mass storage device directly to the device. Cameras, USB keys and USB hard drives are easily accessible with the ARCHOS 101 internet tablet.
Want to work on a larger screen? The ARCHOS 101 internet tablet can be connected a computer screen very easily via the HDMI port. Now you can check your email, edit your documents and practice your presentation on a computer screen, anywhere you go.
The power of a PC

By connecting the tablet to WiFi, the user will be able to do everything that he used to do with a PC at home, but on the go. With Flash 10™**, users can surf the real Internet and access to all their favorite websites.
With a high resolution display (1024 x 600) combined with a 1GHz ultra-powerful high speed processor, the ARCHOS 101 internet tablet can surf the web like never before. This powerful tablet uses the Android™ browser to make browsing the web easy and fun with a very intuitive user interface. For example, if you want to zoom in on the news just press the piece of text you want and the display will be automatically resized to the paragraph you want to read.
A workstation that fits your needs
The ARCHOS 101 internet tablet features an integrated kick stand allowing for hands free use. This multi-position kick stand allows users to set it to fit their needs. Users can set the kick stand in an up position (approximately 60 °) to use the display as a PC monitor with an external keyboard or in a low position (approximately 30 °) for using the virtual keyboard.
Possibilities beyond Android™ with the 'Dual OS'
Just like a PC, the ARCHOS 101 internet tablet can be freely programmed in alternative ways. This gives developers programming options in addition to the applications that can be created for the Android platform. To have total control of your Internet Tablet, ARCHOS has opened up this device, thus allowing creative minds to program their own tablet, or create what could be the tablet of the future.
Unique Android™ Multimedia Applications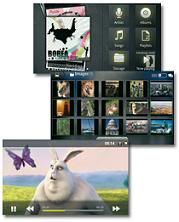 On top of Android's latest version, ARCHOS, still at the forefront of innovation, brings you exclusive applications: The internet tablets feature music, video and photo applications, developed by ARCHOS, that enrich the user experience with smooth browsing through the album covers and with widgets added to the home screen to give instant access and control to media. These unique Android™ applications allow users to amplify their digital experience. One of these functions, 3D album cover application, allows you to glide through your music by album covers. You can also make your own music playlists or browse your songs and music by favorites, recently played or recently added. ARCHOS makes your life easier by supporting audio and video formats beyond the standard ones of Android™. It can even display subtitles and alternate audio tracks, all you have to do is drag, drop, and play! What other functions were created for you? An internet connected Photo frame application with 3D transitions, and the ability to sync your pictures with your Facebook©, Picasa© or Flickr© account.
(c) copyright 2008, Blender Foundation / www.bigbuckbunny.org
HD* Multimedia

In the ARCHOS tradition of employing the very latest technologies, this device offers the ultimate multimedia experience in HD* quality. Don't worry about what music, video, or photo formats it will play, it plays them all.
The ARCHOS 101 internet tablet has a new music & video application adding 3D cover animation support and the ability to add a mini music or video widget to the home screen, in order to control your music & video at any time.
* Maximum resolution = 1280 x 720 pixels
HDMI video output

Via the HDMI connection (HDMI cable sold separately), enjoy the Android™ interface on your TV screen. You will discover a new way to play games on TV, your device becomes your gamepad. In addition, whether you are sharing your photos and videos to a room full of people on a TV, you can show high definition images that are so crisp, an individual pixel will be impossible to see!
Unique photo experience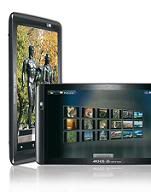 Browse through your photos with a simple flick of your finger or play a slideshow of your last vacation with music and transition effects. You can even display the pictures that your friends uploaded to Facebook™ or other photo sharing websites. The high resolution screen perfectly reproduces each picture in such detail that you can easily zoom in to see the tiniest of details, there's no limit.
Easy transfer


There's a full-sized USB connector on the side of the device to let you transfer all your multimedia content. There is also a USB host connector to directly transfer your files without using a PC.
Specifications
Product capacity

•

Internal: 8 GB flash memory

•

External: Micro SD Slot (SDHC compatible)

Display characteristics

High resolution capacitive multitouch screen,

1024x600 pixels (WXVGA), 10.1'' TFT LCD

Application Framework

Android 2.2 Froyo
Processor
• ARM Cortex A8 at 1 GHz with DSP

• Graphic accelerator: 3D OpenGL ES 2.0

Video Playback
• MPEG-4 HD (up to 720p, 30 fps@6Mbps)
• MPEG-4 (ASP@L5 AVI, up to DVD resolution, 30 fps@8Mbps)
• H.264 HD (HP@L3.1 up to 720p, 30 fps@5Mbps)
• WMV9/VC1 (AP up to 720p 30 fps@10Mbps)
• M-JPEG (Motion JPEG Video) in VGA resolution
With optional plug-in (downloadable on www.archos.com):
• Cinema: MPEG-2 (up to DVD resolution MP/D1, 30 fps@10 Mbps)
With the above codecs, the device can play video files with the

following extensions: AVI, MP4, MKV, MOV, WMV, MPG, PS, TS,

VOB, FLV, RM, RMVB, ASF, 3GP

Audio Playback
• MP3 CBR & VBR

• WMA, WMA-Pro 5.1 • WAV (PCM/ADPCM)

• AAC, AAC+ 5.13 • OGG Vorbis • FLAC
With optional software plug-ins (downloadable on www.archos.com):
• AC3 5.1

Photo viewer
JPEG, BMP, PNG, GIF

Subtitles

Support subtitles files with .srt, .ssa, .smi, .sub extensions

Webcam

Yes

Pre-installed applications

• Aldiko, Ebuddy, Wikipedia, Avecomics, HubKap, Deezer, Mewbox,

Raging Thunderlite (a 3D car demo game), WordNewspaper,

Touiteur, Fring

Interfaces

• USB slave 2.0: Mass Storage Class (MSC)
• Full size USB host: Mass Storage Class (MSC)

• Micro SD (SDHC compatible)
• HDMI output5 (Mini HDMI / HDMI cable sold separately)

Communication protocols
• WiFi (802.11 b/g/n) • Bluetooth 2.1 EDR

Miscellaneous
• Built-in speakers • Built-in leg stand • Built-in Microphone

• G-sensor • Front VGA Camera

Power source

• Internal: Lithium Polymer battery
• External: Power adapter/charger

Battery life

• Music playback time: up to 36 hours
• Video playback time: up to 7 hours
• Web surfing: up to 10 hours

Scalability

• Device automatically downloads latest firmware updates

when the WiFi connection is activated
• Updates can also be downloaded at www.archos.com and

updated via USB mass storage

Dimensions & weight

• 270 x 150 x 12 mm • 480 grams

Minimum system requirements
• Microsoft® Windows® XP, Vista, 7 or higher

• Mac • Linux

• USB 2.0 interface

Package includes
ARCHOS 101 internet tablet, Standard USB cable,

Quick Start Guide (QSG), legal and safety notice,

power charger

.
Source:
http://www.archos.com/products/ta/archos_101it/index.html?country=ph〈=en