The popular Iconia One 8 tablet now offers the most accurate touch experience on a tablet, ever.
With more densely compressed touch sensors on its gorgeous touchscreen, this stylish tablet lets
you tap, write and sketch with incredible precision. Now you can control your tablet precisely, quickly, perfectly.
Touch the best
This tablet's touchscreen features Precision Plus technology3, so it gives you the most accurate touch
experience, ever. Use an Acer Accurate Stylus1 to write and sketch as if you are doing it on paper.
With the new Iconia One 8, you can even use thin-tipped objects like pencils to make notes!
Portable cool
Show your personality with your choice from a feast of eye-catching colors. The textured anti-slip finish
boasts a unique "tartan" pattern that looks great and just begs to be touched. Add to that a slim shape
and light weight, and you have one heck of a stylish travel companion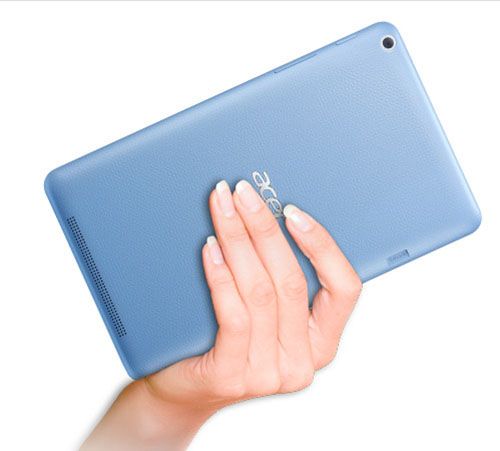 Vivid multimedia
This tablet's powerful octa-core processor smoothly handles games, videos and web
browsing – and these all look great on a gorgeous 8-inch IPS2 screen that looks perfect from
any angle. You also get an additional boost from the improved performance of the new
Android™ 5.1 (Lollipop) OS, and up to 10 hours of battery life.
Iconia Suite3 inside
Our exclusive suite of EZ apps give you lots of tools to make your tablet that much more fun
and easy to use. With EZ Note, EZ Snap, EZ WakeUp and EZ Gadget you get everything from a
powerful multimedia note-taking app to simplified screen shots and wake-up shortcuts, plus
EZ Gadget's multitasking mini-apps.
TECH SPECS
Operating System
:
Android 5.1 (Lollipop)
Processor
:
MTK MT8151 (1.7GHz Octa-core)
Display
:
8-inch IPS 1280 x 800 Display
Camera
:
5MP Rear & 0.3MP Front
Connectivity
:
Wi-Fi 802.11 a/b/g/n, Bluetooth 4.0