Enjoy high-speed scanning for everything from photos to documents, to even 35mm film while also enjoying superb quality. The CanoScan 9000F Color Image Scanner delivers an incredible maximum film scanning resolution of 9600 x 9600 (Optical) dpi1 with built-in features that also make it easy to use. The all-new Auto Document Fix feature automatically analyzes and corrects both text and images so your document text will remain clear and your pictures will maintain color tone and contrast. For additional ease of use, the Seven EZ Buttons enable you to scan, copy or create a PDF faster than ever.
Superb Scanning Resolution: When you combine 9600 x 9600 maximum color resolution1 (film scanning) with a vivid 48-bit color depth and over 281 trillion possible colors, the results will astound you. Continue your scanning brilliance with tremendous 19,200 x 19,200 (Interpolated) software enhanced scans
EZ Buttons: Utilize the Seven EZ Buttons to automate the entire scanning process. Copy, scan and create email attachments or PDF files simply with the push of a button.

Auto Scan Mode: With the press of a single button you have the ability to bring eight steps into one as you scan your photo, document or personal notebook and have the type of original automatically recognized. In addition, the original is automatically cropped to proper size, scanned and saved in the appropriate file format.

35mm Film: Make your old photos look virtually brand new again with the special film scanning guide frame and Film Adapter Unit by scanning one film strip at a time at a maximum 9600 color dpi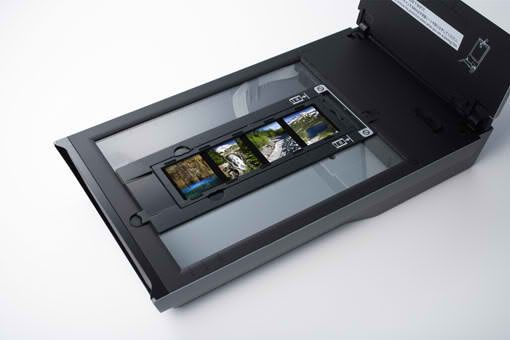 Auto Document Fix: Auto Document Fix delivers beautiful and easy-to-view scan results by advanced image analysis and area-by-area data correction, automatically. Text characters stand out and are sharp, and clear; while pictures maintain their color tone and contrast.

FARE Level 3: This built-in retouching technology delivers automatic correction to photos and film removing much of the dust and scratches while restoring its color all at the same time. Restore the life of your memories automatically instead of having to spend lots of time manually retouching them.

Gutter Shadow Correction: This built-in correction removes the shadow typically seen when scanning a page from a book. This "gutter" is eliminated delivering a clean scan of the page – not the dark gutter.
USB 2.0 Hi-Speed: Scan and transfer images to your computer at the fastest possible scanning speeds with this connection. The USB 2.0 Hi-Speed Interface also allows for quick previews of your images to your computer.
SPECIFICATIONS
Scanner Type
Flatbed
Scanning Element
Charged-Coupled Device (CCD) 12-line color
Light Source
White LED
Features
7 EZ Buttons, 9600 dpi CCD Sensor, Auto Document Fix,

Auto Scan Mode, Built-In Power Supply, FARE Level 3,

Film Scanning (35mm film/120 format film), Gutter Shadow Correction,

High-speed Scanning, Light Guide, OCR Text Data Conversion,

PDF Password, Sensor Carriage, Super Toric Lens, White LED,

Zero Warm-up Time
Scanner Buttons
Auto Scan, Copy, E-mail, PDF x 4
Scanning Mode
Color: 48-bit internal / 48- or 24-bit external
Grayscale: 48-bit internal/16-bit (film scanning only)/8-bit external
Max. Document Size
8.5" x 11.7"
Interface
Hi-Speed USB
Dimensions (W x D x H)
10.7" (W) x 18.9" (D) x 4.4" (H)
Weight
10.1 lbs
OS Compatibility
Windows® 7, Windows Vista®, Windows XP/2000 and

Mac OS® X v10.4.11 to 10.6.x
Software
Setup Software & User's Guide CD-ROM, Adobe®Photoshop®

Elements5, ArcSoft® PhotoStudio®, MP Navigator EX
Power Requirements
AC 100-240V, 50/60 Hz
Max. Power Consumption
15W (0.9W Standby)
Operating Temperature
Operating temperature: 50° - 95° F
Operating Humidity
Operating humidity: 10% - 90% RH (20% - 80% RH for film scanning)