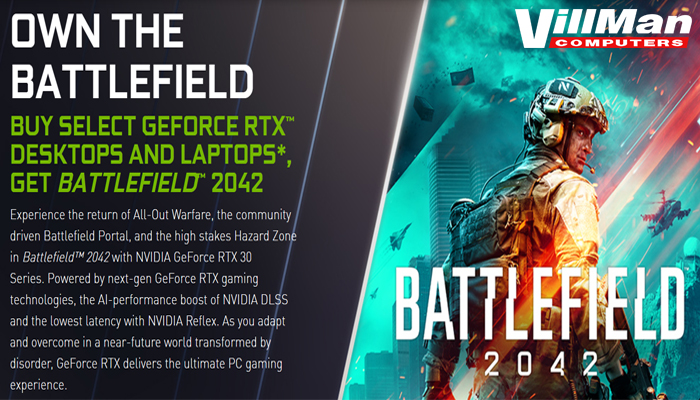 Own The Battlefield
Buy Select GeForce RTX Desktops And Laptops*
Get Battlefield 2042
The Battlefield 2042 DT/LT game bundle has been extended three weeks and will now end on 4 October 2021 instead of 14 September 2021.
We will also be extending out the redemption period to now end on 4 January 2022.

Timeline:

8/24 Bundle Start/Announce (9pm Taiwan time )
10/4 Bundle Promotion End
1/04 Redemption Period End
Offer:

Buy Select GeForce RTX Desktops and Laptops, Get Battlefield 2042
Skus:

GeForce RTX 3090, 3080 Ti, 3080, 3070 Ti, and 3070 (Desktop and Laptop Systems ONLY)
Bundle Includes Additional Standard Edition Pre-Order Bonuses:

Open Beta Early Access
Baku ACB-90 melee takedown knife
?Mr. Chompy? epic weapon charm
?Landfall? player card background and ?Old Guard? tag
?Irish - Battle Hardened? Legendary Skin
Terms & Conditions:

Limit one download code per customer - multiple codes cannot be redeemed by the same customer
Offer code must be redeemed in the specific region
Learn more: https://www.nvidia.com/en-ph/geforce/campaigns/battlefield-2042-bundle/

#RTXITSON #NVIDIAGEFORCERTX #NVIDIAGEFORCEPH #BATTLEFIELD2042
Battle Field Redemption Links of Brands:
Participating OEM Partners:

Links:
ASUS
https://rog.asus.com/event/Battlefield-2042-bundle/desktop-laptop (Actual link)
http://demo.realclear.com.tw/Asus/Lena/Battlefield/ (staging only)
MSI
Philippines: https://ph.msi.com/Promotion/own_the_battlefield
Gigabyte
https://ph.aorus.com/event-detail.php?i=1967 ?
Lenovo
https://legion.fan/NvidiaBF2042

ASUS
https://www.asus.com/events/infoM/activity_battlefield-2042-bundle-pc-build
MSI
https://ph.msi.com/Promotion/own_the_battlefield
Zotac
https://www.zotac.com/ph/page/battlefield-2024-bundle
Redemption page:
https://www.zotac.com/ph/page/redeem-battlefield-2024

GALAX
https://www.galax.com/en/webforms/index/index/id/139/
Inno3D
Game Bundle page (news page): https://www.inno3d.com/en/news_gamebundle_battlefield2042
Redemption page:
https://www.inno3d.com/en/redemption_battlefield2042
Colorful
https://en.colorful.cn/event/battlefield2042/index.html
Palit
https://www.palit.com/event/promote/2021/bf2042/apac.php