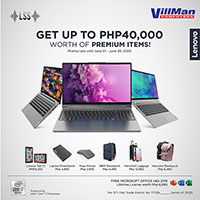 LENOVO LSS PROMO!!! Starts Today!!!
Available YOGA Products!!!
81NX0016PH Lenovo Yoga S740-15IRH
81NX0017PH Lenovo Yoga S740-15IRH
81Q8002LPH Lenovo Yoga S940-14IIL
81RS002APH Lenovo Yoga S740-14IIL
81Q9003RPH Lenovo Yoga C940-14IIL
81Q90065PH Lenovo Yoga C940-14IIL
81TC002TPH Lenovo Yoga C740-14IML
81UE0017PH Lenovo Yoga C640-13IML
FREEBIES:
YOGA C SERIES and S SERIES Php 41,710 worth of premium items
For claiming:
(checkmark) Herschel Trade Luggage (worth P12,990)
(checkmark)Herschel Little America Backpack (worth P6,490)
(checkmark)Lenovo Laptop PowerBank (worth P4,995)
(checkmark)Lenovo Yoga Mouse (worth P2,995)
(checkmark)Lenovo 7" Tab E7 (worth P4,250)
Pre-bundled freebies
(checkmark)Lenovo B210 BackPack (worth P2,995) – pre-bundled
(checkmark)Microsoft Office Home & Student 2019 Lifetime License (worth P6,995) – pre-bundled
How to Claim:
1. This promotion is valid with every purchase of select Lenovo devices only.
2. To claim, customers must sign up via https://lenovoph.com/LSSClaimForm
3. The order form is exclusive to all customers who purchased select Lenovo IdeaPad or Lenovo Products between June 1 to June 30, 2020, with a corresponding copy of a local invoice with TIN #. Delivery receipts or Acknowledgement receipts will not be honored.
4. Each purchase/invoice is valid for claiming of one promotion only and is not in conjunction with any other offers or other available promotions. If customer has claimed for another promotion. Lenovo Philippines reserves the right to invalidate the claim.
5. Customers may claim their free premium gifts up to 60 days from date of official receipt.
6. This offer is not open to employees of Lenovo Philippines, their affiliates, PR and advertising agency, suppliers and participating outlets including their relatives up to second degree of consanguinity or affinity.
7. Claims must be submitted by the Customer only, whose name is reflected on the invoice. Resellers/Retailers may not submit claims on behalf of the Customer.
8. NOTE: Only purchases from authorized resellers qualify for the promo. Maximum of three (3) purchases per Customer for the whole promo period.
9. Hard bundled items including B210/B810 BackPacks is to be provided for by resellers upon purchase. Others will be delivered by Lenovo Philippines.
10. Deliveries of Free Gifts may take up to 90 days from claiming due to ECQ and GCQ.
REMINDER:
(star) Please take note that Lenovo B210 BackPack (worth P2,995) and MS Office H&S License is pre-bundled when customer received their pre-ordered laptop.
(star) Date of Receipt should be June 1 - July 31, 2020 only