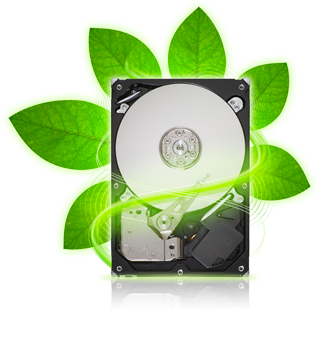 Best-Fit Applications
• Direct Attached Storage devices–USB/FireWire/eSATA
• Network Attached Storage devices and Windows storage servers
• Eco friendly PCs
• High-capacity desktop storage
Barracuda® Green drives from Seagate save you time. Available now with SATA 6Gb/s interface and 64MB cache and combined with the industry's only 5900-RPM spin speed, you can be sure you're getting the best performance in the green-power drive category.
Seagate SmartAlign™ technology simplifies your transition to the Advanced Format (AF), 4K standard. There is no need for time-consuming integration utilities required by similar AF drives.
Key Features and Benefits
• A unique 5900-RPM speed delivers the fastest-performance eco friendly drive available.
• Seagate SmartAlign technology allows you to get all the benefits of the new Advanced Format 4K sector standard without any hassle–no utilities, no extra steps.
• The SATA 6Gb/s interface and 64MB cache maximize performance.
• Low power consumption combined with leadership in the use of environmental compliance materials means you
don't have to sacrifice environmental stewardship for performance.
• Cool, quiet operation
Specifications
Model Number
ST2000DL003

Interface
SATA 6Gb/s
Cache
64MB
Capacity
2TB
Areal density (avg)
422Gb/in
Guaranteed Sectors
3,907,029,168
Physical
Height
26.1mm (1.028 in)

Width
101.6mm (4.0 in)
Length
147.00mm (5.78 in)
Weight (typical)
635g (1.39 lb)
Performance
Spin Speed (RPM)
5900 RPM
Sustained data transfer rate
144Mb/s
Average latency
4.16ms
Random read seek time

<12.0ms
Random write seek time
<13.0ms
I/O data transfer rate
600MB/s
Unrecoverable read errors
1 in 10
Power
12V start max current
2.0A
Average idle power
4.5W
Average operating power
5.8W
Environment Ambient Temperature
Operating
0°–60°C
Nonoperating

-40°–70°C
Maximum operating temperature change
20°C per hour
Maximum nonoperating temperature change
30°C per hour
Shock
Operating Shock (max)
70 Gs for 2ms
Nonoperating Shock (max)
300 Gs for 2ms
Acoustics
Acoustics (Idle Volume)
2.1 bels
Acoustics (Seek Volume)
2.3 bels
Source: http://www.seagate.com/ww/v/index.jsp?name=st2000dl003-bcuda-green-sata-6gb-2tb-hd&vgnextoid=add6439d45c0b210VgnVCM1000001a48090aRCRD&vgnextchannel=f424072516d8c010VgnVCM100000dd04090aRCRD&locale=en-US&reqPage=Support#tTabContentOverview