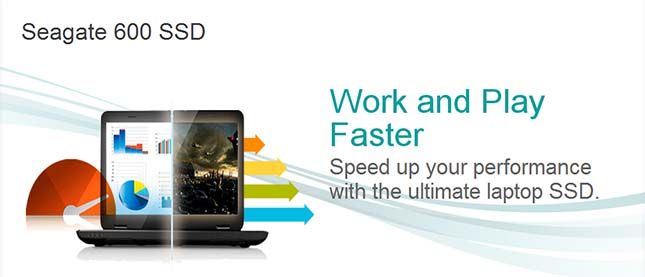 The Ultimate Laptop SSD Upgrade
Delivering faster performance and improved ruggedness,
the Seagate® 600 SSD is the ultimate upgrade solution for your laptop PC or Mac computer to:
Save time with faster laptop and application speeds

Protect data with improved drive ruggedness

Replace 2.5-inch client HDDs with client SSDs
Work Hard, Play Harder. Fast Laptop SSD.
Experience the snappiest Mac and PC system responsiveness for gaming, video editing, workstation,
and other applications you use for work or play. The Seagate 600 SSD delivers the speed you crave
so you can enjoy up to 50% faster boot times, shorter application load times, and improved system
responsiveness.
Protect Your Data with Improved SSD Ruggedness
For road warriors and users on the go, the 600 SSD protects your data should your laptop accidently
get dropped or bumped during operation. Because the SATA SSD has no rotating platters or drive heads,
it provides a much higher level of ruggedness and shock-resistance than standard HDDs.
Easy Upgrade Drive for 5mm, 7mm Laptops
The 600 SSD installs like a typical HDD upgrade and works with any standard PC or Mac laptop
operating system. It is the only SSD available in both a 5mm and 7mm z-height for thin and
ultra-thin laptops. With capacity up to 480GB, this drive gives you plenty of storage for your
documents, games, videos and photos.
Front-End Caching for Data Center Applications
The 600 SSD is ideally suited for data center applications such as search engines, financial
applications, data indexing, and content delivery networks.
High, sustained performance specs suited for lower-cost front-end caching where no power loss data protection is required
Improved system responsiveness using caching for content delivery, search engines, and other read-intensive applications
No RV-related performance degradation since there are no moving parts
TECH SPECS
* Note:

Valid only for installment/deferred payments on selected credit cards.
To avail of the 0% Interest Promo, you have to visit a Metro Manila VillMan branch,
where your credit card will be processed.
Accepted credit cards for 0% promo:
BPI, Citibank, HSBC, Standard Chartered, Diner's Club, Security, Metrobank,
Unionbank, BDO, Equitable, Bankard, AIG, and East West.
A downpayment is required for 'Order-Basis' items.