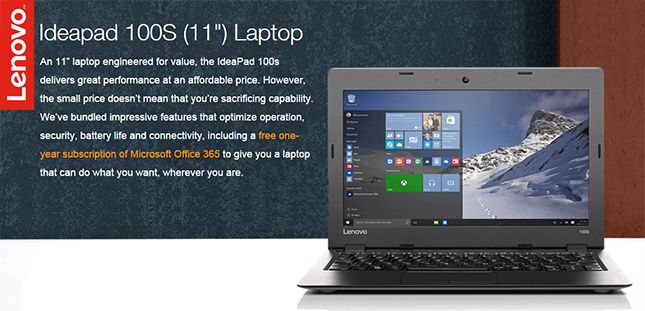 Discover Ideapad 100S (11")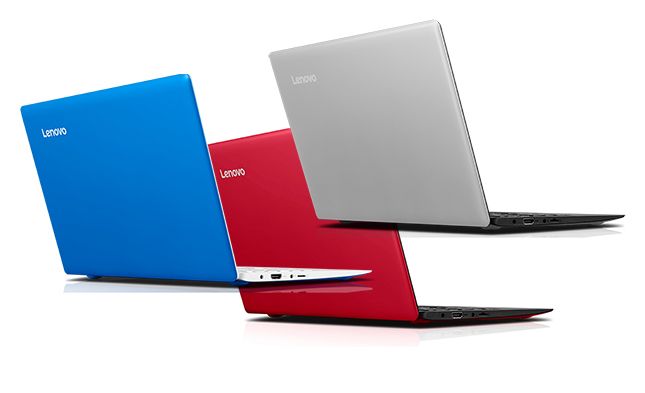 Fast and Smooth
Windows 10 Home features InstantGo* technology, which speeds up boot and resume
processes, so you're not waiting for the machine to catch up with you. A quad-core Intel Atom
processor provides speed for nimble browsing, beautiful images and quick responsiveness to
whatever you're working on – or playing.
Light and Bright
Weighing in at 2.2 lbs and just 0.7" thin, the 100s is perfect for your on-the-go lifestyle.
But small doesn't mean boring. A 1366x768 HD display, Dolby® Advanced Audio™
and WiFi and Bluetooth® connectivity means you can entertain yourself with music, movies
and games – at home, work or away.
Long and Lean
The battery on the 100s is built to go a long time – a full 8 hours – between charges, so you can
do what you need to do without stopping to plug in. Equipped with a 1-year subscription to
Microsoft Office 365, which comes with a full terabyte of OneDrive cloud storage, the 100s won't
get bogged down with tons of files.
Work and Play
The 100s is versatile, too. Work on spreadsheets, documents and presentations, save them to
your OneDrive cloud storage, then relax with some online games, music or a movie. Great for
work, school or home, the 100s makes the transition gracefully.
Connectivity Options
As well as USB 2.0 and HDMI ports, the Ideapad 100S has a convenient microSD
card slot for easy storage expandability. It also has 802.11 b/g/n WiFi connectivity and
Bluetooth® 4.0, so you can connect to the Internet wherever you are.
Microsoft Office 365 Personal
IdeaPad 100s includes a 1-year subscription to Microsoft Office 365 Personal.* Get full,
installed versions of Word, Excel, PowerPoint, Outlook and more on this PC, plus one
tablet, for a rich offline experience. Store, share, access and edit your files online across
your devices, with 1TB OneDrive online storage (included with Office 365 Personal*)
*Office 365 Personal 1-year subscription included. Office activation required within 6 months of
Windows activation date.
TECH SPECS
Model
:
Lenovo IdeaPad 100s-11 80R20033PH - Silver Lenovo IdeaPad 100s-11 80R20032PH - Red Lenovo IdeaPad 100s-11 80R20030PH - Blue
Processor
:
Intel Atom Z3735F Quad-Core 1.33GHz Processor (2M Cache, up to 1.83GHz)
Software
:
Microsoft Office 365 1-year subscription
Operating System
:
Windows 10 Home
Graphics
:
Integrated Intel HD Graphics
Webcam
:
0.3MP with Dual Microphone
Audio
:
Stereo Speakers with Dolby® Advanced Audio™ Certification
Battery
:
Up to 8 Hours at 150 nits Web Browsing
Display
:
11.6-inch HD LED Glossy (1366x768) Display
Dimensions
:
(inches) : 11.5" x 7.95" x 0.69"
Weight
:
Starting at 2.2 lbs (1 kg)
WiFi & Bluetooth
:
WiFi 1 x 1 802.11 b/g/n, Bluetooth® 4.0
Connectors
:
2 x USB 2.0, HDMI-out, microSD card slot, audio combo jack