Its gorgeous metal finish makes it lovely to touch, and its stylish looks make it stand out from the crowd.
In short, Flip TP301 is irresistibly stunning.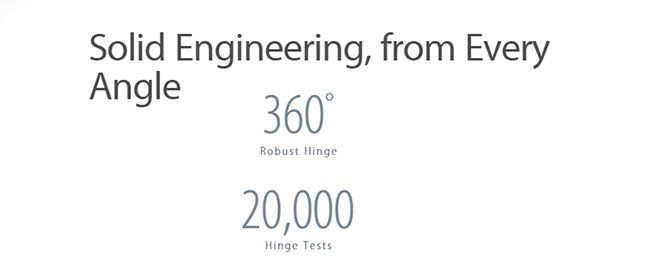 Flip TP301's robust and remarkable 360-degree, multi-gear metal hinge gives you the freedom
to organize your life the way you want. Do serious work in laptop mode. Flip into tent mode to
share or discuss stuff with your colleagues. Create your own personal movie theater in an instant
with stand mode. And wherever you are, Flip's handy tablet mode is enhanced by the lightweight
design and superb battery life.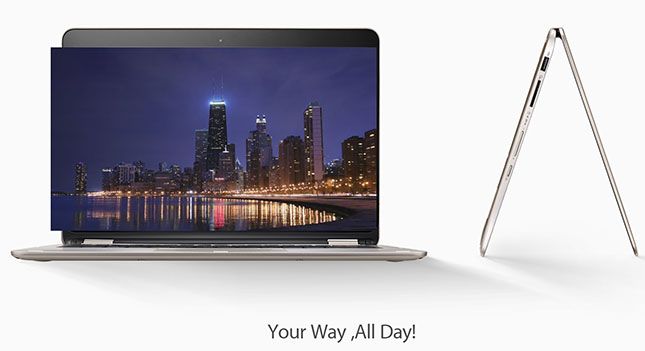 Despite its compact design, Flip TP301 features a powerful 55Wh battery to give you up to 10 hours of
battery life, so you don't need to be constantly on the look-out for power sockets. And with all its
versatile modes at your fingertips, Flip TP301 is everything you need for a whole fun-filled day.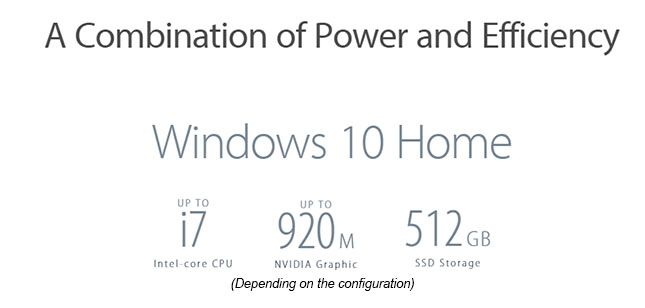 Flip TP301 gives you powerful, energy-efficient performance with up to 6th-generation
Intel® Core™ i5 processors and NVIDIA® GeForce™ discrete high-performance graphics.
Windows 10 also lets you work smarter and smoother, with Continuum mode that automatically
changes the Windows display layout depending on how you're using Flip TP301 — so you always
get the best Windows experience, for every Flip mode!
With up to 1TB HHD and 512GB SSD storage, Flip TP301 has more than enough space
for your business presentations, photo albums, and multimedia content. Whether you're indoors,
or on the move – you get more done with Flip TP301.

TP301 immerses you in crystal-clear visuals and pitch-perfect sound. Its Full HD display gives you
wide viewing angles so your images never look washed out or lacking in contrast, even when viewing
them from off-center. This makes Flip TP301 perfect for sharing screen contents with a group of people,
whatever mode Flip is in.
Exclusive ASUS SonicMaster technology combines precision-crafted hardware with software
tuning for truly immersive audio.
Instant Response to The Lightest Touch
Flip TP301 is designed to respond instantly to your every touch. We've doubled the touch
sensitivity, so even the slightest movement of your fingertips is detected, and it only needs
the lightest of touches to work perfectly. In fact, it's so good that it reacts accurately even to a
child's small fingertips!
Typing Comfort is All in The Details
Just because the 13.3 -inch Flip TP301 is incredibly slim, light and compact doesn't mean you
have to suffer typing on it. We've engineered a superb keyboard with full-size keys, and with just
the right amount of key travel to make it supremely comfortable to use, even for marathon typing
stints. The cleverly-designed key mechanism gives the keys a reassuringly-solid feel —these
backlit keys even feature ambient light control, so you stay productive even in dark environments —
it's details like this that set Flip TP301 apart from the crowd.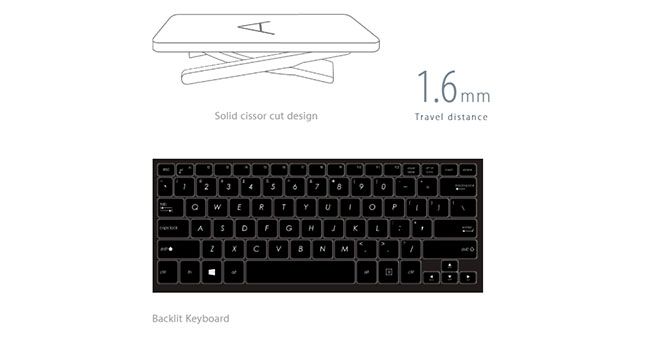 A Responsive Touchpad that's Smart
The large touchpad on Flip TP301 makes it effortless to navigate your way around Windows.
We've made it extra-sensitive for instant response, and to avoid those annoying jumps when
your palm hits the touchpad, we use an exclusive smart algorithm that recognizes the difference
between fingers and a palm. It's a perfect balance between sensitivity and usability.
TECH SPECS
Model
:
TP301UA-DW009T
-
Black TP301UA-DW010T
-
G
old
Processor

:

Intel Core i3-6100U 2.3GHz
Operating System
:
Windows 10
Memory
:
4GB DDR3L 1600 MHz SDRAM
Display
:
13.3 HD 16:9 1366x768 LED, Multi-Touch Screen
Graphic
:
Intel HD Graphics
Storage
:
500GB HDD 5400 RPM
Card Reader
:
2 -in-1 card reader ( SD/ SDHC)
Camera
:
VGA Web Camera
Networking
:
Integrated 802.11 b/g/n
Interface
:
1 x COMBO audio jack
1 x USB-C Gen 1 (up to 5 Gbps)
Audio
:
Built-in Speakers And Microphone
SonicMaster Lite Technology
Battery
:
3Cells 55 Whrs 11hours of battery life
Power Adapter
:
Plug Type :ø4 (mm)
100 -240 V AC, 50/60 Hz universal
Dimensions
:
322 x 227 x 19.9 mm (WxDxH) (w/ 3cell battery)
Weight
:
1.5 kg (with 3 cell battery)
Security
:
HDD User Password Protection and Security
Warranty
:
2 Years Global Warranty