Asus Transformer Book Flip 360, TP550LD-CJ056H, Intel Core i7 CPU, 1TB HDD, nVidia GT820 2GB VRAM, Win8.1

| | |
| --- | --- |
| Price: | Not Available |
| Status: | Phased Out |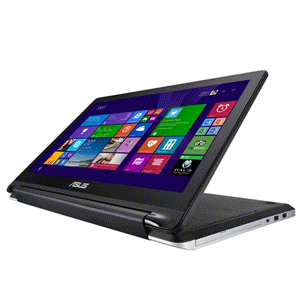 More flexibility, more imagination

At ASUS we always start with people. We put what people are thinking, feeling,
and doing at the heart of our work, translating these insights into meaningful
designs for inspiring experiences. ASUS Transformer Book Flip is designed to
give the ultimate flexibility, with a display that can be flipped at any angle
from zero to 360 degrees. Feel the joy with a full range of ASUS laptops for every need.




High-performance touchscreen laptop with discrete graphics and ergonomic keyboard

Effortless productivity and seamless multitasking thanks to powerful, energy-efficient
Core™ i7 processors plus discrete high-performance graphics. In Windows 8 laptop mode,
you'll be able get more done when you're on the move.


Convenient stand for enjoying movies, videos, photos or music

Equipped with a HD display, in stand mode you can enjoy the latest movies or your home videos in stunning detail, with powerful, clear sound thanks to SonicMaster audio technology. With the keyboard conveniently out of sight, your entertainment will be distraction-free


A quick flip lets you share presentations, photos or documents interactively

Flip into viewer mode to share presentations, documents and photos easily with people around you. The clever hinge design lets you set the display at any angle for perfect viewing. The keyboard and touchpad lock automatically to prevent accidental input.


Windows 8 tablet with an accurate and precise HD touchscreen

Enjoy all the convenience of a tablet with the power and connectivity of a laptop. Flip switches seamlessly into a responsive HD tablet, with total fingertip control thanks to the precise 10-point multi-touch screen. Browse the web, check your email or just relax and play your favorite games!


Flip from laptop to tablet

ASUS Transformer Book Flip is designed to work as a laptop, a tablet, or anything in between. It has a touchscreen that can be set at any angle from 0 to 360 degrees. For work, use it as a normal laptop. For games, turn it into a tablet with a HD screen. Or for watching movies or presentations, just flip it to any convenient angle!


Crafted for great style and an elegant look

Hairline-textured surfaces give ASUS Transformer Book Flip an elegant look. Packed with features, it offers intuitive computing, easy mobility, and a style you'll love. With a luxury feel and
effortless usability, ASUS Transformer Book Flip focuses on useful details, powerful performance,
and unrivalled functionality.


Lifelike colors with HD screen and ASUS Splendid technology

ASUS Transformer Book Flip combines the latest hardware and exclusive ASUS technology to provide the best visual experience. ASUS Splendid technology automatically adjusts color gamut and color accuracy of the HD display, with its maximum resolution of 1366x768. This ensures pristine image quality with vibrant colors whatever the application, whether it's movies, games or photos.


Thrill to clear and powerful sound

The world is full of living sound and every note is important. ASUS SonicMaster goes beyond just
function into indulging all your senses with immersive experiences. Enjoy smooth, rich, and
detailed sound in music, movies, voice, and even gaming. SonicMaster combines design, superior
hardware, and optimized software for stunning professional-grade audio.


SonicMaster brings sound to life

ASUS Transformer Book Flip delivers the best audio experience in its class with exclusive SonicMaster technology. ASUS precision-crafted hardware brings bigger speakers and resonance chambers, while software tuning helps achieve spectacular audio. This makes a complete multimedia package, with every song, movie, and game sounding better thanks to carefully balanced and dynamic audio.


Define your own sound with AudioWizard

ASUS AudioWizard has five selectable modes to meet your preferences and listening environment. Enjoy lifelike sound in music, movies, and games, with all modes fine-tuned by the ASUS Golden Ear team.
The proprietary interface puts you first, so it's utterly user-friendly, offering quick and direct
access to your content. It's so flexible, you can change the way it looks and feels in seconds!


The world at your fingertips

ASUS takes great pride in perfecting the user experience, and the multi-touch display in Transformer Book Flip will enhance your Windows 8 experience whatever screen angle you choose. Exclusive ASUS touch sensor technology means that the display is more accurate and responsive than conventional touch-screens, too!


Be touched with the world at your fingertips

The multi-touch display on Transformer Book Flip has been designed to maximize intuitive computing, whether you're using it in laptop mode or tablet mode. Touch sensors that are more accurate than the industry standard provide greater finger precision for better writing, drawing, and more. It's time for what you see is what you touch!



Smart Gesture makes touchpads as smooth as a mouse

Flip's large multi-point touchpads with Smart Gesture technology offer fingertip-natural computing.
It delivers natural-feeling, simple but precise interaction, with scrolling and right-clicking for
accessing advanced functions without a mouse. Exclusive enhanced palm rejection technology improves accuracy and responsiveness for smoother input. So whether you're scrolling through a web page or rotating images, the screen doesn't get in the way of your experience.



Keyboard comfort, precision, and reliability

The ergonomic keyboard is crafted for effortless typing, with precisely-tuned key mechanisms for
greater comfort and faster typing, even for prolonged periods. ASUS Transformer Book Flip provides superbly accurate and ergonomic typing experiences, reducing the risk of errors. The chiclet-style keyboard blends seamlessly with the flip design and is engineered for an extra-solid feel. It's also resistant to dust and debris accumulation to ensure long-lasting quality.


TECHNICAL SPECS:


---
* Note:

Valid only for installment/deferred payments on selected credit cards.
To avail of the 0% Interest Promo, you have to visit a Metro Manila VillMan branch,
where your credit card will be processed.
Accepted credit cards for 0% promo:
BPI, Citibank, HSBC, Standard Chartered, Diner's Club, Security, Metrobank,
Unionbank, BDO, Equitable, Bankard, AIG, and East West.
A downpayment is required for 'Order-Basis' items.