The 11-inch MacBook Air lasts up to nine hours between charges. So from your morning coffee till your
evening commute, you can work unplugged. When it's time to kick back and relax, you can get up to 10
hours of iTunes movie playback on the 11-inch model. And with up to 30 days of standby time, you
can go away for weeks and pick up right where you left off.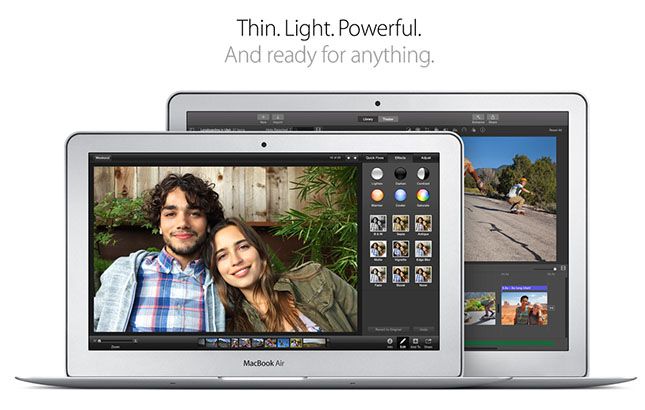 Whatever the task, new fifth-generation Intel Core i5 and i7 processors with Intel HD Graphics 6000
are up to it. From editing photos to browsing the web, everything happens ultrafast. And all that power
is encased in an incredibly thin 0.68-inch unibody design that weighs only 2.38 pounds.
With the latest 802.11ac technology, MacBook Air takes Wi-Fi speeds over the top. Connect to
an 802.11ac base station — including AirPort Extreme or AirPort Time Capsule — and experience
wireless performance up to three times faster than the previous generation of Wi-Fi. 802.11ac also
delivers expanded range, so you can work more freely than ever.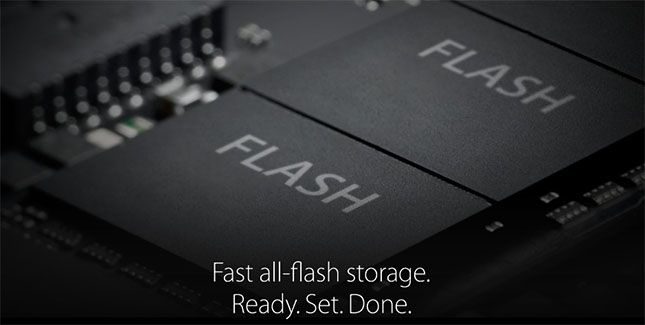 Flash storage in MacBook Air is up to 17 times faster than a 5400-rpm notebook hard drive.
So everything you do is snappy and responsive. MacBook Air even wakes up fast, thanks to
flash storage and fifth-generation Intel Core processors

Every new Mac comes with Photos, iMovie, GarageBand, Pages, Numbers, and Keynote.
So you can be creative and productive right from the start. These apps have been updated to
match the beautiful design of OS X Yosemite. You also get great apps for email, surfing the web,
sending texts, and making FaceTime calls — there's even an app for finding new apps.
Easy to use, beautiful to look at, and engineered to take full advantage of your Mac hardware,
OS X Yosemite is the world's most advanced desktop operating system. It comes with an amazing
collection of apps for the things you do every day. And it makes your Mac and iOS devices work
together in amazing way.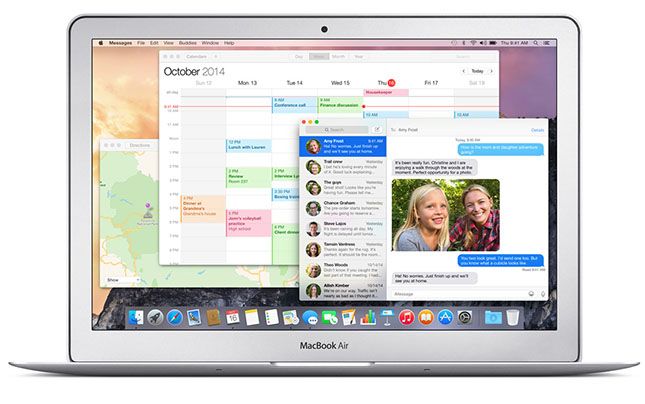 TECH SPECS
Display
:
11.6-inch (diagonal) LED-backlit glossy widescreen display with support for millions of colors
Supported resolutions
:
1366 by 768 (native), 1344 by 756, and 1280 by 720 pixels at 16:9 aspect ratio;
1152 by 720 and 1024 by 640 pixels at 16:10 aspect ratio; 1024 by 768 and
800 by 600 pixels at 4:3 aspect ratio
Storage
:
128GB PCIe-based flash storage
Processor
:
1.6GHz dual-core Intel Core i5 (Turbo Boost up to 2.7GHz) with 3MB shared L3 cache
Memory
:
4GB of 1600MHz LPDDR3 onboard memory
Battery & Power
:
Up to 9 hours wireless web
Up to 10 hours iTunes movie playback
Up to 30 days standby time
Built‑in 38‑watt‑hour lithium‑polymer battery
45W MagSafe 2 Power Adapter with cable management; MagSafe 2 power port
Size and Weight
:
Height: 0.11-0.68 inch (0.3-1.7 cm)
Width: 11.8 inches (30 cm)
Depth: 7.56 inches (19.2 cm)
Weight: 2.38 pounds (1.08 kg)
Graphics
:
Intel HD Graphics 6000
Dual display and video mirroring: Simultaneously supports full
native resolution on the built-in display and up to 3840 by 2160 pixels
on an external display, both at millions of colors.
Thunderbolt digital video output
Native Mini DisplayPort output
DVI output using Mini DisplayPort to DVI Adapter (sold separately)
VGA output using Mini DisplayPort to VGA Adapter (sold separately)
Dual-link DVI output using Mini DisplayPort to Dual-Link DVI Adapter (sold separately)
HDMI audio and video output using third-party Mini DisplayPort to
HDMI Adapter (sold separately)
Camera
:
720p FaceTime HD camera
Wireless
:
802.11ac Wi-Fi wireless networking; IEEE 802.11a/b/g/n compatible
Bluetooth 4.0 wireless technology
Audio
:
Stereo speakers
Support for Apple iPhone headset with remote and microphone
Keyboard & Trackpad
:
Full-size backlit keyboard with 78 (U.S.) or 79 (ISO) keys, including 12
function keys and 4 arrow keys (inverted "T" arrangement) with ambient light sensor
Multi-Touch trackpad for precise cursor control; supports inertial scrolling, pinch,
rotate, swipe, three‑finger swipe, four-finger swipe, tap, double-tap, and drag capabilities
Operating System
:
OS X Yosemite
Engineered to take full advantage of your Mac hardware, OS X Yosemite is
intuitive and easy to use. It features an elegant design, includes
enhancements to the apps you use most, and enables your Mac and iOS
devices to work together in amazing ways.