A groundbreaking Retina display. A new force-sensing trackpad. All-flash architecture.
Powerful dual-core and quad-core Intel processors. Together, these features take the notebook
to a new level of performance. And they will do the same for you in everything you create.
When you pack so many pixels into a display — over 4 million on the 13‑inch model
— the results are positively stunning. The pixel density is so
high, your eyes can't discern individual pixels. Images take on a new level of realism. A
spectacular 2560-by-1600 resolution on the 13‑inch MacBook Pro
let you see more of your high-resolution
images with pixel-for-pixel accuracy. And text is so sharp, you'll feel like you're reading email,
web pages, and documents on a printed page.
The Retina display reduces glare while maintaining incredible color and quality. Its high contrast
ratio results in blacker blacks and whiter whites. And everything in between is rich and vibrant.
IPS technology gives you a wide, 178-degree view of everything on the screen, so you'll see the
difference at practically any angle. And you're going to love what you see.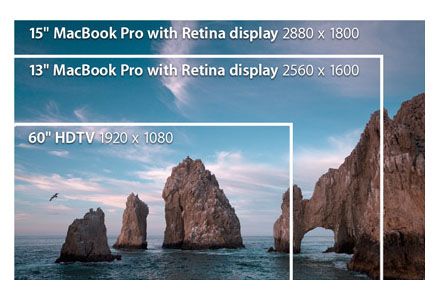 The 13‑inch MacBook Pro with Retina display has nearly 2 million more pixels than an
HDTV.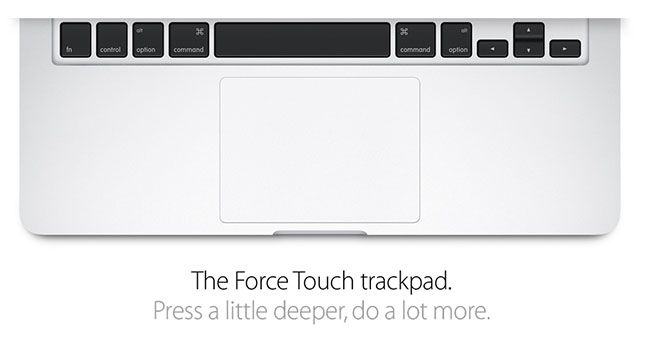 With Multi-Touch in OS X, you can use realistic gestures like swiping or pinching to
switch between apps, navigate your content, and get the most out of your desktop space.
The new Force Touch trackpad takes all the capabilities of Multi-Touch and adds force
sensors that detect subtle differences in the amount of downward pressure you apply. This
lets you have a deeper connection to your content, bringing more functionality right to your
fingertip. It also introduces haptic feedback to MacBook Pro — allowing you not just to see
what's happening on the screen, but to feel it.
Click and continue to press on the trackpad to enable new capabilities, like looking up
the definition of a word, previewing a file in the Finder, or creating a new Calendar event when you
Force click a date in the text of an email.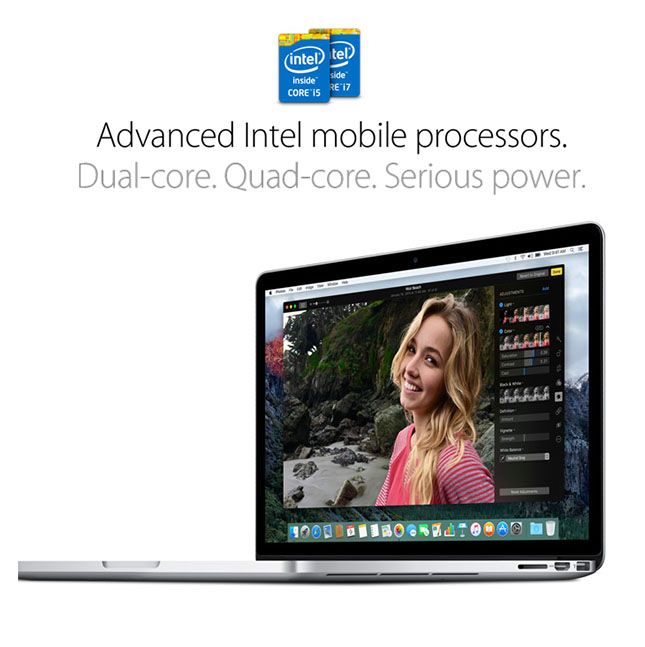 With the fifth-generation dual-core Intel Core i5 or Intel Core i7 processor, the 13‑inch MacBook Pro
with Retina display lets you take your most performance-hungry apps on the road. That means wherever
you can take your camera, you can take your entire digital photo studio. Hyper-Threading technology,
which enhances performance by letting each core handle multiple tasks simultaneously, is included
in every model. And with speeds up to 3.1GHz, shared L3 cache up to 4MB, and Turbo Boost
speeds up to 3.4GHz, these processors are ready for just about anything.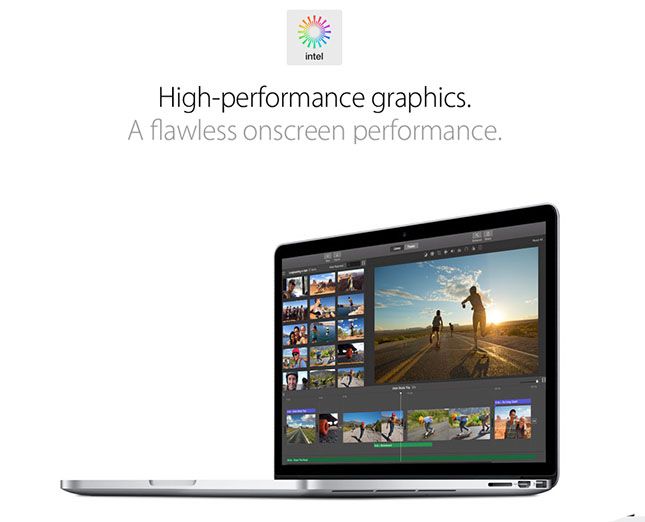 The 13‑inch MacBook Pro with Retina display features Intel Iris Graphics 6100 to handle both
everyday tasks and graphics-intensive creative apps. Scroll through large photo albums with ease.
Play games with amazing detail. Even connect an external display or two. It's just another way this
13‑inch MacBook Pro is small on size but big on performance.

The 13‑inch MacBook Pro lasts up to 10 hours between charges. That's an hour longer than previously
for each model. And they deliver 12 hours and 9 hours of iTunes movie playback, respectively. That's
impressive battery life for any notebook. But for a high-performance notebook with an ultra-high-resolution
display, state-of-the-art processors and graphics, and a superslim design, it's absolutely remarkable.
The built-in battery gives you up to 1000 full charge and discharge cycles.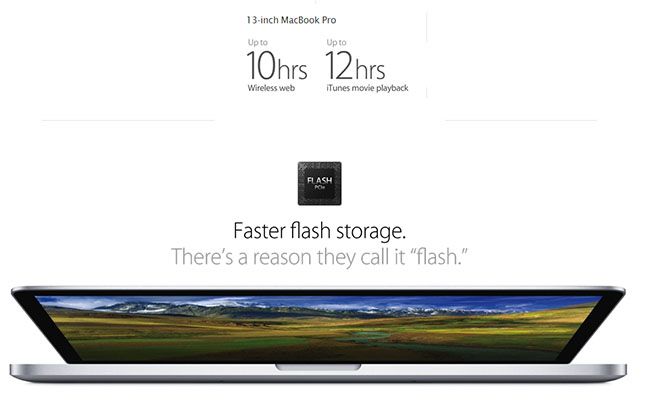 Thanks to the superfast read and write performance of the PCle-based flash storage,
you'll notice a difference in whatever you do. Starting up is really fast, apps launch quickly,
and navigating the desktop feels fluid and responsive. The 13-inch model features flash storage
speeds of up to 1.6GB/s — that's 2 times faster than the previous generation, letting you import
— with up to 2.0GB/s throughput — that works with quad-core processors and high-performance
huge photo libraries in no time flat.2
graphics to make quick work of even the most demanding Final Cut Pro X editing tasks. And
since these MacBook Pro models come with up to 1TB of flash storage, you can keep all your
important files with you.4 In addition, flash has no moving parts, so it's superdurable and quiet.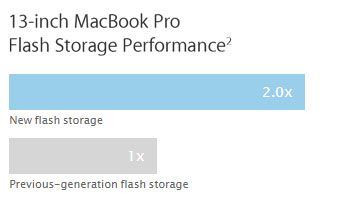 Meet the ultimate mobile creative studio — with the emphasis on mobile. Equipped with 802.11ac
Wi‑Fi and Bluetooth 4.0 wireless technology, you're free to unplug and still stay connected — to your
network, to your wireless peripherals, and to the world. With AirPlay and Apple TV, you can wirelessly
play video, show off photos, and enjoy music from your MacBook Pro, all on your widescreen TV.
And when your MacBook Pro connects to an 802.11ac Wi‑Fi base station, such as AirPort Extreme
or AirPort Time Capsule, your wireless performance is up to three times faster.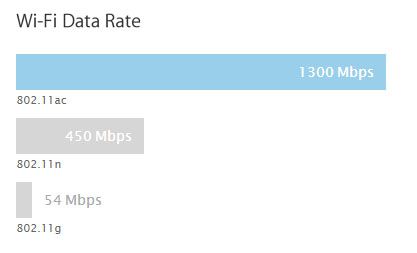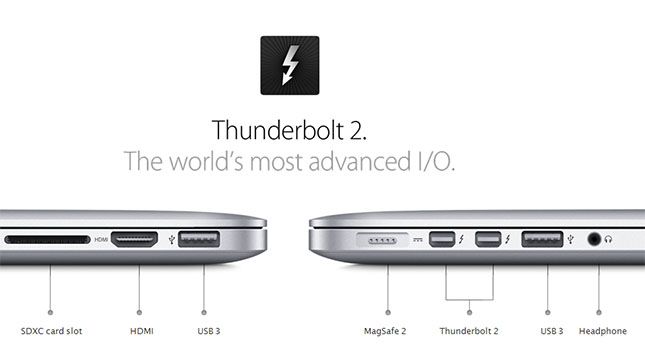 ast and versatile, Thunderbolt 2 provides up to 20Gb/s of bandwidth to each external device.
So you're more than ready for the next generation of high-performance peripherals and displays.
You can connect massive amounts of storage and add a PCI expansion chassis. And since
each Thunderbolt 2 port allows you to daisy-chain up to six peripherals, you can go all out
by plugging in up to 12 external devices via Thunderbolt alone.
Whether you choose the 13‑inch, you'll get two Thunderbolt 2 ports, two USB 3 ports, an HDMI port,
an SDXC card slot, and a headphone port. So in a matter of minutes you can build an entire
professional studio with MacBook Pro as its centerpiece.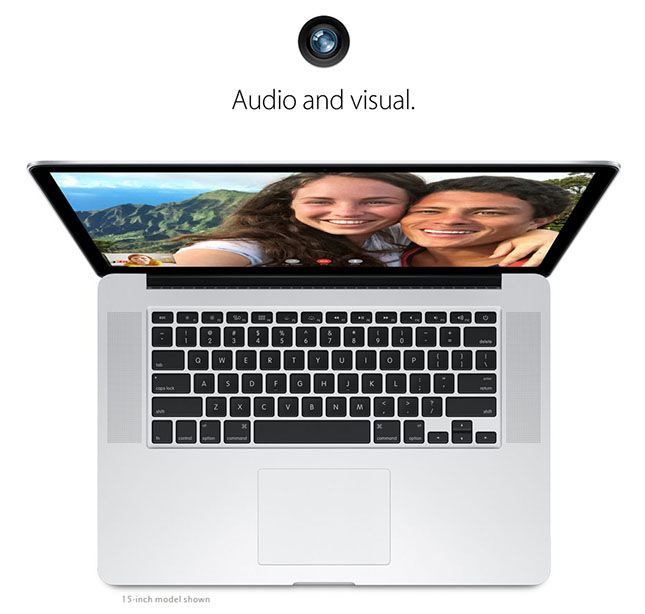 Stereo Speakers
You haven't heard it all until you've heard the speakers inside MacBook Pro. For something so
thin and light, the sound is huge. And with a wide dynamic range, optimal balance, and a crisp,
expressive quality, these speakers might sound too good to be true. That's because we labored
painstakingly over the design to maximize the quality of every decibel you hear.
Dual Mics
Dual built-in microphones are great for when you want to be heard. If you're making a FaceTime
call, for example, the mics reduce background noise from behind the notebook. And when you use
Dictation, they create an adaptive audio beam that intelligently adjusts to detect your
voice — instead of the noise around you.
FaceTime HD Camera
Make your point with greater clarity. Centered just above the widescreen Retina display on
MacBook Pro is an advanced FaceTime HD camera, with an image sensor that produces
accurate colors and reduced image noise even in low light. The sophisticated image processor
produces sharper images and reduced motion blur. And the face detection feature automatically
adjusts exposure and white balance to complement your face and skin tone, so you always
look your best — no matter what lighting is behind you.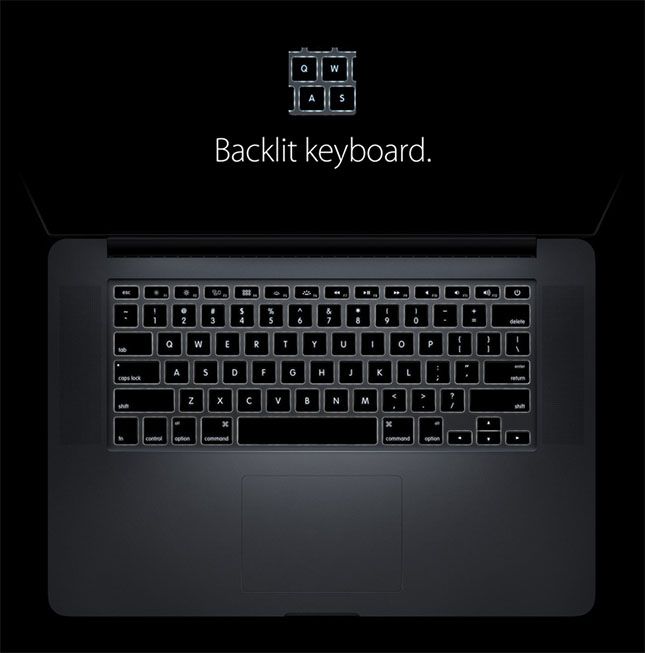 Thin and light, MacBook Pro is designed to go anywhere — including places with less-than-stellar
lighting. A built-in sensor detects changes in ambient light and adjusts the keyboard and display
brightness automatically. So you're never left in the dark.
TECH SPECS
Display
:
Retina display: 13.3-inch (diagonal) LED-backlit display with
IPS technology; 2560-by-1600 resolution at 227 pixels per
inch with support for millions of colors
Native resolution: 2560 by 1600 pixels (Retina); scaled
resolutions: 1680 by 1050, 1440 by 900, and 1024 by 640 pixels
2.7GHz dual-core Intel Core i5 processor
(Turbo Boost up to 3.1GHz) with 3MB shared L3 cache)
Memory
:
8GB of 1866MHz LPDDR3 onboard memory
Storage
:
256GB PCIe-based flash storage
Graphics
:
Intel Iris Graphics 6100
Camera
:
720p FaceTime HD camera
I/O Ports
:
MagSafe 2 power port
Two Thunderbolt 2 ports (up to 20 Gbps)
Two USB 3 ports (up to 5 Gbps)
802.11ac Wi‑Fi wireless networking; IEEE 802.11a/b/g/n compatible
Bluetooth 4.0 wireless technology
Support for Apple iPhone headset with
Support for audio line out (digital/analog)
Keyboard &
:
Full-size backlit keyboard with 78 (U.S.) or 79 (ISO) keys,
Trackpacp
including 12 function keys and 4 arrow keys
(inverted "T" arrangement) with ambient light sensor
Force Touch trackpad for precise cursor control and pressure-sensing
capabilities; enables Force clicks, accelerators, pressure-sensitive
drawing, and Multi-Touch gestures
Battery
:
Up to 10 hours wireless web
Up to 12 hours iTunes movie playback
Up to 30 days of standby time
Built-in 74.9-watt-hour lithium-polymer
60W MagSafe 2 Power Adapter with cable management system; MagSafe 2 power port
Electrical
:
Line voltage: 100V to 240V AC
Operating temperature: 50° to 95° F (10° to 35° C)
Storage temperature: –13° to 113° F (–25° to 45° C)
Relative humidity: 0% to 90% noncondensing
Operating altitude: tested up to 10,000 feet
Maximum storage altitude: 15,000 feet
Maximum shipping altitude: 35,000 feet
Operating System:
OS X El Capitan