Samsung SALE!!! Level Up and WIN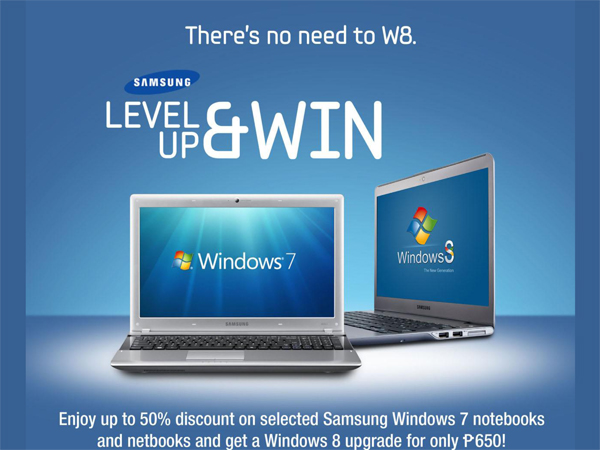 Samsung Level Up and Win Promotion No need to W8.
Buy Windows-based Samsung
notebook or netbook and get
1 Great discounts upon purchase*
2 Exciting freebies
3 An option to upgrade to Windows 8 Pro for only $14.99**
* Valid for selected models only
**available only for models with Windows 7 Home Basic, Home Premium or Professional
Promo Duration:
October 11 17, 2012
Location:
VillMan SM Megamall, 4F Cyberzone Bldg. B
Registration and Freebie Claiming Area:
Samsung Service Center 4F Cyberzone Bldg. B
End-User Promotion
1. For every purchase of a Windows-based notebook or netbook, users are entitled to the following free items.
Samsung Netbook (10.1") with Windows 7 Starter
FREE Logitech M185 Wireless Mouse
Samsung Notebook (11.6" and above) with
FREE Sennheiser HD201 Hi-Fi Headphones
Windows 7 Starter, Windows 7 Home Basic,
Windows 7 Home Premium or Windows 7 Professional
2. Purchasers of the following models are also entitled to a coupon for a free PC game of Dirt Showdown
NP305V4A-S02PH NP305E4A-S02PH
NP535U3C-A01PH NP535U3C-A02PH
3. To claim the free item, customers must register their purchase at Samsung Service Center 4F Cyberzone.
SAMSUNG LEVEL UP AND WIN DISCOUNTED PRICE LIST
NetbooksModel Current SRP Special SRP Discount
NP-NC210-A02PH 20,900 13,900 7,000
NP-NC215-A01PH 18,900 14,900 4,000
NP-NF110-A02PH 16,900 10,500 6,400
NP-NF110-A03PH 16,900 10,500 6,400
NP-NF310-A01PH 22,900 12,900 10,000
I3/A6 Notebooks
Model Current SRP Special SRP Discount
NP-R440-JT08PH 33,900 24,900 9,000
NP-R440-JT03PH 35,900 24,900 11,000
I5 Notebook
Model Current SRP Special SRP Discount
NP-R480-JV02PH 39,900 27,900 12,000