Samsung Notebook PC Winning Upgrade Promo
Mechanics
1. For every purchase of the following models from October 15-January 31, 2013, customers are entitled to
the following FREE items.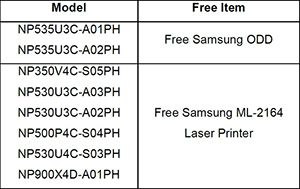 2. These free items will be given outright upon purchase.
3. The following models are also entitled to a free upgrade to Windows 8 Pro through Cash Rebate (rebate already applied in our SRP).

NP300E4A-A04PH
NP300E4A-A0APH
NP300E4C-T01PH
NP350V4C-S05PH
NP535U3C-A01PH
NP535U3C-A02PH
NP530U3C-A03PH
NP530U3C-A02PH
NP500P4C-S04PH
NP530U4C-S03PH
NP900X4D-A01PH
4. Customer can purchase the Windows 8 Pro upgrade from Microsoft Upgrade Website (www.windowsupgradeoffer.com) from October 26- February 29, 2013.

Located in the Philippines!