Logitech wireLESS is MORE promo!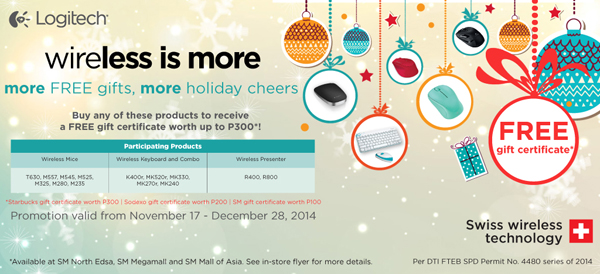 Mechanics:
Each customer can pick a card from the lucky dip box upon presenting the proof of purchase of the participating models. End-Users can claim their prizes in accordance with the prizes indicated on the card directly at the cashier counter. End-Users will need to complete the card with their personal details
(Name, E-mail, Contact Number and Signature)


The Winning Prizes available are:
Starbucks Gift Certificates
(worth P300 each)

SM Gift Certificates
(worth P100 each)

Sodexo Gift Certificates
(worth P200)


(participating models listed below)
Wireless Mouse
T630, M557, M545, M525, M325, M280, M235
Wireles Keyboard and Combo
K400r, MK520r, MK330, MK270r, MK240
Wireless Presenter
R400, R800
Promo runs from Nov. 17 to Dec. 28, 2014 only!

Located in the Philippines!